Chris Bosh withdraws from Olympic consideration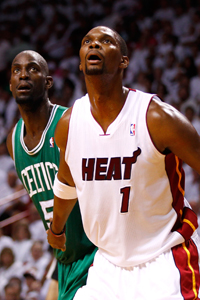 With no Bosh, Team USA is getting smaller and smaller inside.
(Getty Images)
No Dwight Howard. No Derrick Rose. No Dwyane Wade.
And now no Chris Bosh.
Via the AP, Bosh was withdrawn his name from consideration for the 2012 Olympics to rehab and rest his abdominal injury.
Bosh suffered the injury in the second round of the playoffs against Indiana and was forced to sit out multiple games for the Heat before returning and helping them win an NBA championship.
Said Bosh's agent Henry Thomas to the Sun-Sentinel: "In discussions with the doctors, they just felt the severity of the injury was such that, under the circumstances, it was more important, right now, just to rest and rehab this injury, so it does not become a chronic problem. It was a pretty serious injury."
Team USA was already thin inside with no Howard as well as a hip injury to LaMarcus Aldridge. But without Bosh that opens the door wide for Blake Griffin, Kevin Love and No. 1 pick Anthony Davis to push for a roster spot. And don't rule out Lamar Odom, who is still in the player pool.
Bosh was part of the 2008 gold medal squad in Beijing.
It comes as a blow to the U.S. because the top competition in the tournament, Spain, is built with a number of solid interior players. Spain features Marc and Pau Gasol along with Serge Ibaka who has Spanish citizenship. Without Howard, Aldridge or Bosh, Team USA is going to have to rely on a few unproven players to carry the load inside.
Team USA training camp opens July 6 in Las Vegas.