Grizzlies don't give O.J. Mayo a qualifying offer, making him an unrestricted free agent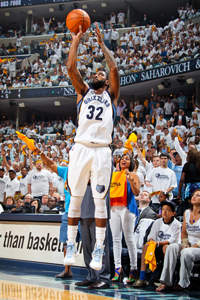 O.J. Mayo will be taking his talents somewhere other than Memphis next season.
(Getty Images)
The O.J. Mayo era in Memphis is likely coming to an end.
The Grizzlies announced qualifying offers Friday for Darrell Arthur and Marreese Speights, but in somewhat of a surprising turn, did not offer one to Mayo. That means that Mayo will become an unrestricted free agent on July 1, not allowing the Grizzlies to match any offer made.
Mayo had a sizeable qualifying offer to meet (almost $7.4 million), and with the Grizzlies already battling some salary issues, it makes sense to let him walk. Memphis already has $62 million committed to next season's team, putting them right at the cap line -- or over, depending on the number.
Mayo was selected third overall in 2008 by the Timberwolves before being dealt on draft day to the Grizzlies, sending Kevin Love to Minnesota. He was one of the top high school recruits ever when he signed at USC, and he had a solid freshman season before going pro.
In four years with the Grizzlies, Mayo averaged 15.2 points, 3.3 rebounds and 2.7 assists per game. He shot 37.5 percent from 3, giving Memphis much needed spacing and 3-point shooting. His best season was probably his rookie year in which he averaged 18.2 ppg, shot 38 percent from 3 and 44 percent from the floor.
In CBSSports.com's Top 40 Free Agent Rankings, Mayo is listed 18th. What's his value? Hard to really say. He seems to be an ideal mid-level contract kind of player, but he also could have some starpower ability. He can certainly score, and he's a bit of an underrated defender. A team like the Celtics could have great interest in him to replace Ray Allen if Allen chooses to go elsewhere.
For a player with as much hype as Mayo, it's a little strange to think he's going to be allowed to walk too easily away from the team that essentially picked him third overall. And it's not that he didn't live up to expectations. He just never really had a great chance to.