Report: Raptors flying to New York to meet with Nash first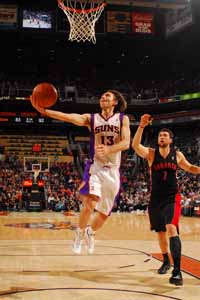 The Raptors want Steve Nash in their uniforms next year.
(Getty Images)
The Canadian team is flying to the Big Apple to meet with the favorite Sun.
(Wocka-wocka-wocka.)
Sam Amick of SI.com reports that the first team to meet with Steve Nash will be the Raptors:
Operation Nash in place for the Toronto Raptors: Sources says a group that includes team governor Larry Tanenbaum, GM Bryan Colangelo, and coach Dwane Casey is flying overnight from Los Angeles tonight on Tanenbaum's jet in order to be the first team to greet free agent point guard Steve Nash in the morning. The group was attending a wedding of one of the team's assistant coaches in LA today.
via Sam Amick's post on NBA Free Agency | Latest updates on Sulia.
The Raptors' pursuit of Nash is a bit odd in several ways. For starters, Dwane Casey has tried to instill a defensive philosophy in the team. Nash is limited in what he can do defensively not only by ability and age, but by a back condition that limits his lateral movement. Signing Nash is great for the offense but not for the the team's approach as a whole.
Second, the Raptors were the third slowest team in the league last season. Nash has ben operating in a fast-paced system for virtually his entire career. Either the Raptors are going to speed things up, which is going to make it harder for them defensively, or Nash is going to have to slow down, which is a bit out of his comfort zone. It's not a binary option, there are middle grounds, it's just something to consider when we look at the Raptors potentially adding Nash.
Nash is also being aggressively pursued by the Knicks and Blazers, among other teams. On Saturday, Nash said he believed the Suns were ready to "move on" from him and go in a different direction. The 38-year-old two-time former MVP averaged 13 points and 11 assists last year with Phoenix.