Knicks G Jeremy Lin withdraws from USA Select because of free agency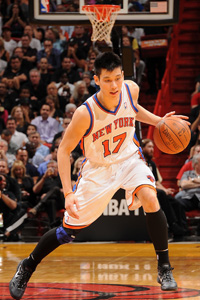 Jeremy Lin has withdrawn from USA Select.
(Getty Images)
There will be no Olympics training for this global basketball sensation.
New York Knicks restricted free agent guard Jeremy Lin has opted to withdraw from the 2012 USA Select Team, which is set to train with the 2012 USA Men's National Team in Las Vegas later this week. The training program serves as preparation for the 2012 London Olympics.
"Unfortunately, I am not going to be able to participate in the 2012 USA Men's Select Team this summer," Lin said in a statement released by USA Basketball. "It was such an incredible honor to be selected, but I have withdrawn my name from the team because of my status as a free agent. I hope to have the opportunity to participate with USA Basketball at some point in the future."
Lin, a Taiwanese-American Harvard graduate, rose quickly to international superstardom after being moved into the Knicks starting lineup. He averaged 14.6 points, 6.2 assists, 3.1 rebounds and 1.6 steals per game for New York before undergoing season-ending knee surgery.
USA Basketball chairman Jerry Colangelo first said he'd consider Lin for the USA Select team during the All-Star break back in February, right at the peak of Linsanity.
"I think it's wonderful," Colangelo said of Lin's remarkable breakout. "I love that. The whole story is great. First of all, think about the impact he is having and would have if this continues on the average guy, the average player. Hope. It doesn't get any better than that."
USA Basketball has dealt with a string of withdrawals, including the losses of Dwyane Wade, Chris Bosh, Dwight Howard, Derrick Rose, LaMarcus Aldridge and Lamar Odom. Anthony Davis also suffered a sprained ankle last weekend and could miss the Olympics.