Nets, Bosnian forward Mirza Teletovic agree to mid-level deal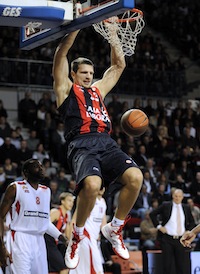 The Nets have added yet another player.
(Getty Images)
They don't have Dwight Howard -- yet -- but the Nets do have a new big man.
According to the New York Times, the Brooklyn Nets have agreed in principle to sign Bosnian power forward Mirza Teletovic to a three-year, $15 million deal.
Ken Berger of CBSSports.com has confirmed the terms of the deal, which cannot become official until July 11, after the NBA's annual moratorium on signings and trades.
Teletovic, 26, is a 6-9 forward who plays for Spanish powerhouse Caja Laboral. He averaged 22 points and six rebounds per game in Euroleague. He also shot almost 44 percent from 3. He's well developed at 240 pounds, has a bunch of NBA skills and should be able to step in and play right away for the Nets.
Depending on the future situation with Kris Humphries, Teletovic could either come off the bench as a sixth man for Brooklyn or replace Humphries as the new starting 4.
There's a catch to the deal, though. The Nets used their mid-level exception, meaning they can't exceed $74 million in payroll next season. That could potentially be a major blow to working a sign-and-trade for Dwight Howard. The Nets are obviously hoping to get Deron Williams signed to a new max deal, and with the acquisition of Joe Johnson and the signing of Gerald Wallace, there isn't a lot of cap room left over.
Also, this means the Nets might not be able to sign Jason Kidd, as so many thought they would. The most the Nets can offer is their bi-annual exception, which would be just under $2 million a year.
Teletovic's deal is a very nice move for the Nets as they add a seriously skilled, NBA-ready power forward for a pretty cheap price, but it also could have ramifications that go with it.