Report: Lakers making push for Steve Nash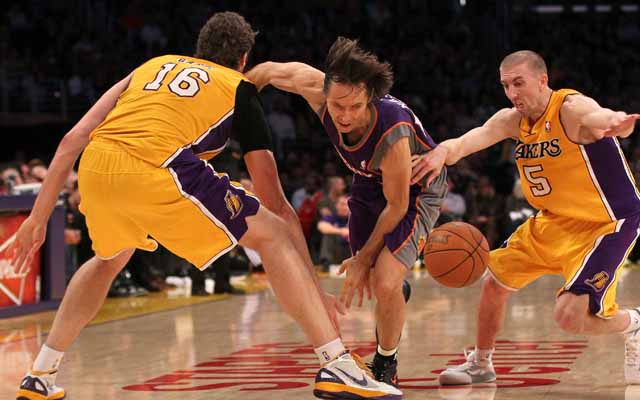 Nash could be splitting Lakers' opponents soon.
(Getty Images)
As the Raptors and Knicks battle it out in the money fields for the rights to Steve Nash, another possibility has emerged.
NBA.com's David Aldridge reports the Lakers plan to make a significant push for the two-time MVP free agent point guard:
While the Toronto Raptors and New York Knicks have made strong pushes for free agent guard Steve Nash, the Los Angeles Lakers have, quietly, entered the fray for the 38-year-old guard and are making a strong bid to acquire him, according to a league source.

The Lakers, with a payroll already projected in excess of $83 million next season, would only be able to offer Nash an exception starting at $3.09 million for next season. It's unlikely Nash would take that, so a sign-and-trade deal would be a more realistic possibility.
via Lakers Enter Fray For Steve Nash « NBA.com | Hang Time Blog.
This comes just days after Nash said it would be hard to put on a Lakers uniform. So there's obviously a lot going on here.
The Lakers would give Nash a strong combination of options, depending on what they're willing to pay. They have the assets to send back in a sign-and-trade. It gives Nash a major market, title contention, access to the film industry and culture (which he's big on), and the money. If Phoenix is interested in any of the Lakers' parts (and trying to establish what Phoenix does and doesn't want is tricky).
This isn't entirely impossible. Toronto has to remain the favorite to land Nash, but if the Lakers can put together a good enough offer, they could jump the list no matter how "hard" it may be for Nash to put on the gold and purple.