Hasheem Thabeet agrees to 2-year contract with Thunder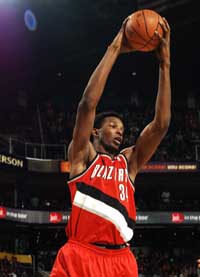 Hasheem Thabeet is headed to the Thunder.
(Getty Images)
The Oklahoma City Thunder will have a new (really) big man next season.
The Thunder have reportedly agreed to sign unrestricted free agent center Hasheem Thabeet to a 2-year contract, according to Yahoo Sports. Royce Young of CBSSports.com has confirmed the deal.
Thabeet, 25, moves on to his fourth team since he was the No. 2 pick in the 2009 NBA Draft. The 7-foot-3 center holds career averages of 2.2 points and 2.7 rebounds in three seasons with the Memphis Grizzlies, Houston Rockets and Portland Trail Blazers. He was traded from the Rockets to the Blazers at the 2012 trade deadline in a package that netted Marcus Camby.
Thabeet plugs into a deep reserve role for the Thunder, who have big men Kendrick Perkins, Serge Ibaka, Nick Collison and Cole Aldrich under contract for next season. The agreed signing likely means that veteran center Nazr Mohammed, who is currently an unrestricted free agent, will not re-sign with the Western Conference champions.
Contract offers cannot be made official until July 11, once the NBA's 10-day free agency moratorium is complete.