Nash traded to Lakers: Winners and Losers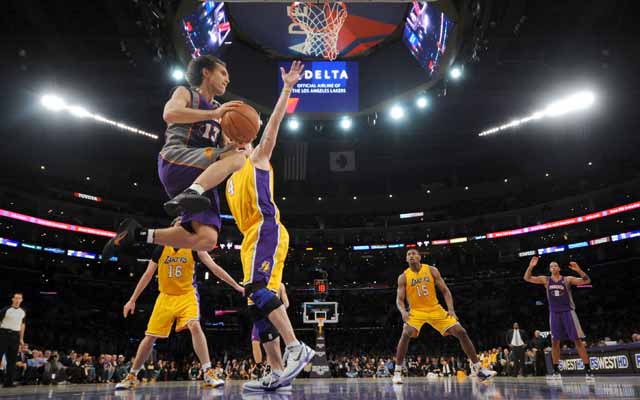 The Lakers offense is about to take off.
(Getty Images)
The Los Angeles Lakers reached an agreement Wednesday with the Phoenix Suns to acquire Steve Nash in a sign-and-trade for multiple draft pick considerations. But what are the effects? And who came out winners and losers in this deal?

Winners

Steve Nash: Nash said less than two weeks ago that it would be hard to put on a Lakers uniform. But there was a trump card to the rivalry and the history and the attitudes. Nash's kids living in L.A.. That'll do it. We like to make these decisions into just about sports, about the things fans live and die with, the memories, the hatred, the attitudes. But there's more to players' lives.

Which is not to say there aren't basketball, and non-basketball, perks. Nash now becomes the fourth player on a three-man team, the engine to make a clunky Lakers offense function. He now plays with the best shooter he has ever been paired with in Kobe Bryant. He now plays with the best center he's ever played with in Andrew Bynum. He now plays with the second-best power forward he's ever played with (Amar'e Stoudemire was better in his time in Phoenix than Gasol is now).

Beyond the obvious talent placement, Nash doesn't have to run the entire offense, doesn't need to handle every possession. He can operate as a spot-up shooter and devastate defenses when they collapse on one of the other three. And in Gasol, he will find a pick-and-pop partner as good as any he can in this league.

He will have film and television opportunities. He will earn more because of endorsements. He will be revered, a God.

And he gets to play more with his kids.

It may have been hard to do, but Nash will wonder why he ever resisted in six months.

Pau Gasol: No Laker benefits like Gasol. Nash fits seamlessly not just in terms of basketball style, but mental and emotional approach, with Gasol. Gasol's mid-range jumper has always been a safety valve on the Lakers' offense. Now with Nash running the pick and pop with him, it's going to be a devastating combo. Trap Nash, he breaks it and finds Bynum or Bryant. Hedge and he gets Gasol on the jumper. Let Nash go and he scores.

Gasol needed someone to make things easier for him, to put him in a position to succeed. Bryant expects him to be like him, to create for himself. That's not who he is. Not anymore. Now he can benefit from Nash's brilliance. This is the move Gasol needs to get his game back on track. Get ready to rediscover how good Pau Gasol is.

Andrew Bynum: You know all those problems with entry passes from the Laker's guards? Yeah, that's no longer an issue. Bynum gets more space, a better lob thrower, and someone who, if told to get Bynum the ball, will get Bynum the ball.

Losers

Phoenix Suns: Hey, draft picks, and they didn't take on any salary! That's a great rebuilding plan, right? Yeah, so, the Suns just gave Michael Beasley $18 million over three years, they put out a max offer for Eric Gordon, and are notorious for selling late first-round draft picks. And they will all be late first-round draft picks. Not much of a haul for the two-time MVP and franchise icon. They were never going to get much from Nash. And that's fine. But picks and Iman Shumpert would have been a superior haul.

Toronto Raptors: Burn it down. They swung hard for Nash and missed. Not only that but they're stuck with a massive offer sheet for Landry Fields, and backing out of it? That's going to be all kinds of awkward. The Raptors aimed high, and thought the Knicks were their enemy. They never saw the Lakers coming.
New York Knicks: Trumped by the Nets. Out-foxed by the Lakers. Fields on his way out. Having to max a big offer for Lin, most likely. Nash would have been someone to make sense of the offense, maybe drag something cohesive out of ISOMelo.

Instead, they're left holding the bag again.

Trumped by the Nets!

Dallas Mavericks: Oh, well, OK, they didn't get Deron Williams. Well, that's OK, they're going to get Steve Na...nope. This is not going well for the 2011 champions.
To Be Decided
Kobe Bryant: He doesn't have to shoulder all the burden of the offense. He doesn't have to bring the ball up court. He doesn't have to do everything. He doesn't have to shoot so much. He can play as many minutes, expending less energy, scoring more points, more efficiently, on fewer shots, and gets a partner he can really trust. He doesn't have to shoulder the burden.
Can he put it down? Can he let go? Can he defer? Can he work off-ball, off-screens, taking the easy shots, not having the ball in his hands for much of the game? Can he make that sacrifice? Will he make that sacrifice?
This could be great for Bryant.
This could be hard for Bryant.
We'll have to see.
Mike Brown: Not a bad thing to get a two-time MVP to run point for your team. He has more talent. He has someone to trust. But there are officially no more excuses for Mike Brown. If that offense sputters again, Brown's going to be toast. With great rosters comes great responsibility.