Dirk Nowitzki in May: I'm too old to rebuild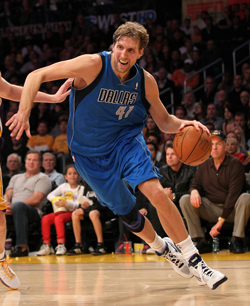 Maybe Dirk Nowitzki had a premonition. Or could simply see the writing on the wall. Or feared Dallas' worst case scenario of an offseason.
In May, via ESPN Dallas, he told ESPN Radio Dallas 103.3 that he's too old to be part of a major rebuilding project.
"It's kind of tough," he said. "I'm like the grandfather of Dallas sports right now."
Dirk is one of two players (Kobe Bryant) in the league with a no-trade clause. He has two years remaining on his deal and when asked in that interview if he could see himself requesting a trade if things went bad in Big D, he didn't say no.
"I'm not sure," Nowitzki said. "I've always said I want to finish my career here and obviously the championship season topped it all off; that's what I always was chasing and dreaming about so that kind of sealed that deal on that front. If we really come out with nobody this summer then maybe they want to rebuild and, obviously, I'm too old for that. We'll just have to wait and see what happens on that front. But I still think I got two, three good years left in me and if we get some players in here we can be right back up there and compete."
It's basically near impossible to picture Dirk in another uniform, but as he said, he's getting up there. He's 34 years old and after tasting a championship just two seasons ago, he's not keen on watching his twilight years melt away on lottery teams trying to reload.
But look at that line again from Dirk: "If we really come out with nobody this summer then maybe they want to rebuild and, obviously, I'm too old for that." Well, the Mavs did exactly that. They whiffed on Deron Williams. Whiffed on Jason Kidd. Whiffed on Steve Nash. So far, whiffed on a bunch of players. They let Tyson Chandler and J.J. Barea walk in pursuit of big names and as Dirk feared, came out with no one.
The Mavs have only three remaining rotation players from their title team: Dirk, Shawn Marion and Brendan Haywood. They have a bit of cap space left, but there isn't anything all that impactful left on the free-agent market. Starting the 2012-13 season, it's hard to picture the Mavs as a title contender, much less a Western playoff team.
Now, it might only be one lame duck year for the Mavs as next summer will bring a heap of cap room and free agents in Chris Paul and Dwight Howard. If Dirk is willing to wait, he might be rewarded handsomely for his patience.
For the time being though, it might get rough in Dallas. And how is Dirk going to handle that?