Report: Minnesota Timberwolves agree to 4-year offer sheet with Nicolas Batum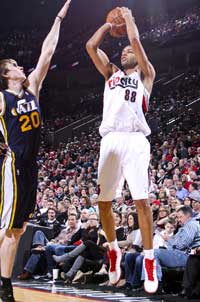 Nic Batum has reportedly agreed to an offer with Minnesota.
(Getty Images)
Will it matter? That's the question.
The Minnesota Timberwolves have reportedly agreed to terms on a 4-year offer sheet with Portland Trail Blazers restricted free agent forward Nicolas Batum, according to the Associated Press. The deal is reportedly worth $45 to 50 million, including incentives.
Offer sheets cannot be signed until July 11, after the NBA's free agency moratorium is completed. At that point, the Blazers would have three days to match.
Earlier on Thursday, the Oregonian reported that Blazers GM Neil Olshey told Batum and his agent that Portland was prepared to match any offers for Batum and that the team would not facilitate a sign-and-trade with the Timberwolves.
Ken Berger of CBSSports.com reports on Thursday that the Blazers have "nothing but contempt" for the Timberwolves' offer and that Batum is "staying" in Portland.
Also on Thursday, the Timberwolves reportedly agreed to terms on a 2-year contract with former Blazers guard Brandon Roy, who is attempting a comeback from ongoing knee issues that kept him from playing during the 2011-12 season.
Batum, 23, averaged 13.9 points, 4.6 rebounds, 1.4 assists, 1.0 blocks and 1.0 steals in 30.4 minutes for the Blazers last season. He will play for the French national team during the 2012 London Olympics.