Report: Pacers to match Portland on Roy Hibbert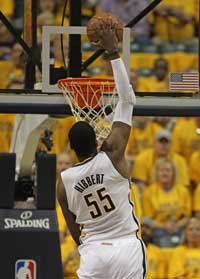 The Pacers will reportedly keep Roy Hibbert.
(Getty Images)
The Portland Trail Blazers have lost yet another big man.
Well, in fairness, this one they really never had.
According to the Indy Star, the Pacers will match Roy Hibbert's four-year, $58 million offer sheet from the Blazers. The Pacers officially have three days to match once the free-agent moratorium is lifted July 11.
Hibbert, who is 7-2 and has a solid back-to-the-basket game, was ranked No. 5 overall on the CBSSports.com Top-40 free agents list and was the top-ranked center.
The Blazers were looking for a building block big man to piece around and Hibbert, 25, certainly could be one. He has a bunch of ability and has stayed healthy during his young career, playing in 65 of Indiana's 66 games last season. The Blazers drafted big man Meyers Leonard with the No. 11 overall pick, but obviously were looking at him more as a depth pick rather than starting material.
For Indiana, it was a no-brainer move to match on Hibbert, even if the four-year max deal might be a bit hefty for him. Centers are always overpaid and Hibbert is going to be no exception. He has a bunch of talent and still hasn't reached his ceiling, but we're talking a guy that averaged 12.8 points and 8.8 rebounds per game, both career-high averages. Not exactly dominant stuff.
But there aren't too many players like Hibbert in the league any more. A traditional post big man that can score with both hands, post up, pass well, handle double-teams and provide an offensive focal point. His numbers might not be impressive, but his size certainly is, and in the Eastern Conference against teams like the Bulls, Celtics and Heat, Hibbert creates a major matchup problem.
By keeping Hibbert, the Pacers have an interesting young core to work around. Hibbert, Paul George, George Hill, Darren Collison, Danny Granger to go with David West made the Pacers a surprise East contender last season. They've got the cap space to re-sign their guys and are looking to piece together a long-term contender. The way you do that is keep your good players, even if you've got to overpay them.