Report: Grant Hill considering Thunder, Heat and Lakers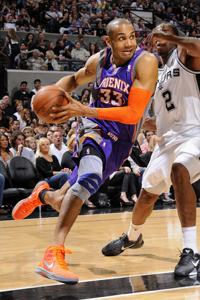 Grant Hill is hunting for a contender to sign with.
(Getty Images)
Grant Hill is such a bandwagoner.
And smartly so.
Hill turns 40 in October and is looking at the twilight years of his NBA career. He found rejuvenation in Phoenix, but he's looking for a playoff team and hopefully, a ring. So if anyone's looking to hitch his wagon to a title contender in the final years of his career, it's Grant Hill. Reportedly.
According to NBA.com, Hill has three teams he's interested in: the Thunder, Heat and Lakers. In other words, three of the league's favorites for next season.
Free agent forward Grant Hill is still considering at least two other teams–the two teams in last month's Finals, Miami and Oklahoma City–as well as the Lakers as he decides where he's going to play next season, according to a source with knowledge of the 39-year-old forward's thinking.

Reports Tuesday indicated that Hill has decided either to play for the Lakers or retire. But the source strongly indicated that Hill has not limited himself to Los Angeles as he makes up his mind. The Lakers emerged as a strong favorite for Hill after they agreed to terms with the Suns last week on a sign-and-trade deal that will send Steve Nash to the Lakers after the end of the July Moratorium on the 11th for four Draft picks and $3 million. But Hill is looking at the Heat and Thunder as well.
How does it shake out for Hill for each team?
Thunder: They aren't likely to extend anything more than a one-year offer to Hill, and depending on his thinking, he probably will want at least a partially guaranteed second season. And with Oklahoma City at 14 on the roster after drafting Perry Jones III and signing Hasheem Thabeet, offering that final spot to Hill rather than a developmental player seems unlikely.
Also, where does Hill get minutes in the Thunder rotation? Obviously he seems like a natural backup for Kevin Durant, but depending on how minutes shake out, Hill might only see 10-15 minutes a game. If that's something he's fine with, then it could be a fit. He makes sense, especially in replacing Derek Fisher as that veteran voice on the team. The problem comes down to money, contract length and role.
Lakers: They just picked up his Phoenix running buddy Steve Nash, and clearly Hill would probably really enjoy chasing a title with him. The Lakers could use him too. They're short on depth, though at his position, assuming they re-sign Devin Ebanks, the Lakers have Metta World Peace and Ebanks in place. But adding a steady veteran like Hill could make a lot of sense and make the others expendable if, say, they got traded for a certain Orlando big man.
Heat: For every aging veteran, the Heat make a whole lot of sense. It's a great place to live for a season or two, a team that's guaranteed to be in title contention and always a roster in need of quality vets that can produce on a cheap deal.
With Mike Miller and James Jones potentially retiring, the Heat might be in need of extra bodies. Signing Ray Allen gives them something, but having Hill interchange with Shane Battier would give the Heat a pretty solid second unit.
Hill averaged 10.2 points and 3.5 rebounds in 28 minutes a night last season in Phoenix.