Report: Suns to pursue O.J. Mayo should Hornets match offer sheet for Eric Gordon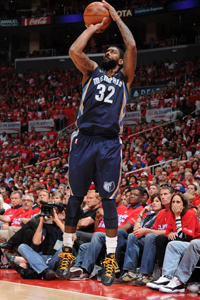 Phoenix could target O.J. Mayo.
(Getty Images)
The Suns are not kidding around about putting together a good team next season. They threw significant money at Goran Dragic and signed Michael Beasley, who for all his faults can score. And they put out a max offer sheet for Eric Gordon. Problem is, the Hornets are almost universally expected to match the offer sheet and retain him in restricted free agency.
So what happens for the Suns with the money they were going to give to Gordon? ESPN reports that the Suns will turn their attention to former Grizzlies guard free agent O.J. Mayo.
Mayo would fit perfect in Alvin Gentry's up-tempo system. He'd find shots and his ability to create looks would be a solid compliment for Dragic. He's no Eric Gordon, but he's a capable two-guard who can run some combo-guard and make an impact. Between he and Michael Beasley, though, there would be some issues in finding enough shots to go around.
Mayo's best attribute on the Suns may be his improved defense, though. In his years under Lionel Hollins he's improved from sieve to capable wing defender who can attack the ball and force turnovers. He'd be a solid if unspectacular addition to Phoenix. First, though, the Hornets have to take Eric Gordon off their wish list.