Report: Nuggets offer JaVale McGee five years, $50 million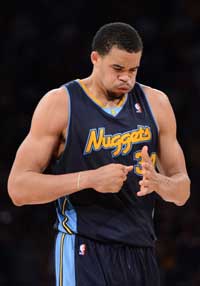 JaVale McGee finally has an offer on the table.
(Getty Images)
Want to make lots of money? Be tall, athletic and play in the NBA. Simple, right?
For a guy like JaVale McGee, it kind of is.
The Nuggets are offering McGee, a restricted free agent center, $50 million over five years, according to the Denver Post.
The Nuggets continue to pursue restricted free-agent center JaVale McGee, who has a five-year, $50 million offer on the table, a source said. But McGee's representatives don't appear to be in a hurry to get a deal done and will continue to negotiate.
Denver's moved slowly on an extension for McGee, which has been wise as this is the only real offer he's received thus far. He's a restricted free agent and didn't draw interest enough for anyone to sign him to an offer sheet.
So while McGee watched Roy Hibbert and Brook Lopez get max deals and probably thinks he's due for something close to that, the Nuggets have allowed the market to speak. And $10 million a year for five years might be the best McGee is going to see.
Depending on what happens for a team like Houston, which is targeting Dwight Howard while also planning to ink Omer Asik to an offer sheet, the Rockets might turn to McGee if both those plans fall through. So the market might increase at some point depending on supply and demand.
Despite McGee's reported lack of excitement about it, it sounds like a lot of money for a player that's regarded as a bit of a knucklehead. But $10 million a year for a player with the athleticism, size and potential of McGee is actually not bad. Especially when you compare the market to him and what other players in his position have received. Shot blockers get paid and McGee's one of the top ones in the league.
The Nuggets obviously want to get him re-signed as he was the key piece in their trade that sent Nene to Washington last season. To be empty handed on that isn't preferred. The question is, will the Nuggets have to up it, or is this the best offer McGee is going to see?