Kwame Brown to sign 2-year deal with Philadelphia 76ers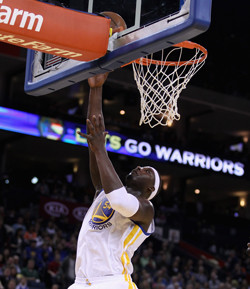 Kwame Brown is taking his talents to the 76ers.
(Getty Images)
Maybe the seventh time will be the charm.
Unrestricted free agent center Kwame Brown, the No. 1 overall pick in the 2001 NBA Draft, has agreed to sign a 2-year contract worth $6 million with the Philadelphia 76ers, Ken Berger of CBSSports.com reports. The second year of the deal is a player option.
The 76ers mark Brown's seventh team since he entered the league and his fourth in the past four seasons.
Brown signed a 1-year contract with the Golden State Warriors worth a reported $7 million in December but played just nine games during the 2011-12 season before suffering a torn chest muscle that sidelined him for the bulk of the season. The Warriors later traded guard Monta Ellis for starting center Andrew Bogut.
Brown, 30, holds career averages of 6.8 points and 5.6 rebounds per game. He joins a Philadelphia frontline that includes Spencer Hawes, who agreed to re-sign on a 2-year deal last week, Nikola Vucevic, Thaddeus Young and Arnett Moultrie. The 76ers opted to use their amnesty clause to waive forward Elton Brand.
Brown's NBA career has also included stops with the Washington Wizards, Los Angeles Lakers, Memphis Grizzlies, Detroit Pistons and Charlotte Bobcats. His NBA career earnings to date top $58 million, according to Basketball-Reference.