Timberwolves sign Nicolas Batum to four-year, $46 million offer sheet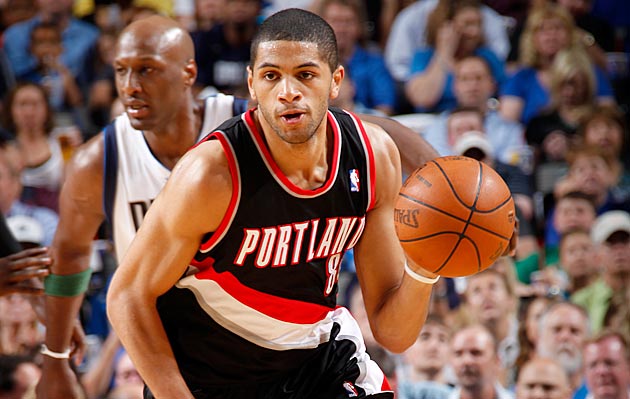 Batum has averaged 10.2 points and 3.9 rebounds in his first three seasons in the NBA. (Getty Images)
The Timberwolves are going through with it. After weeks of thinly veiled talk, accusations, and pleas from the Timberwovles and the agent of Nicolas Batum, the Timberwolves finally signed restrictred free agent Batum to a four-year, $46 million offer sheet via the Oregonian. The Trail Blazers have three days to match the offer. From the Oregonian:
The Blazers are expected to match the offer sheet, based on the stance general manager Neil Olshey has emphatically stated since the opening of free agency on July 1. The offer sheet is more lucrative than the Blazers would like — surely a fact that Minnesota knew in making the offer — but Olshey said last week it still makes sense for him to match because there isn't another starting small forward on the free agent market.

"I find it really hard right now to find that there is a small forward that you could replace the Nicolas Batum-level player with, with the cap room we would create by not matching,'' Olshey said on July 12. "You know, there is a reason [Minnesota] is so valuing Nicolas Batum. It's not easy to find a starting caliber [small forward] in the league.''
via Trail Blazers on the clock: Minnesota delivers signed offer sheet for Nicolas Batum; Portland has until Wednesday to match | OregonLive.com.
So much like Eric Gordon, after all the talk, the Blazers will most likely match Batum and keep him under the terms of the offer sheet. The Blazers and Wolves have been talking about a sign-and-trade since the Wolves reached the agreement with Batum for the offer sheet, but so far nothing sparks the Blazers' interest. Which makes sense, since the Blazers would have to get back a small forward to fill their hole at that position with Batum departing, and the Wolves unable to provide one because that's the entire reason they're trying to sign Batum, they don't have one.
The Blazers had agreed to terms with Pacers restricted free agent Roy Hibbert on a max deal, before the Pacers vowed to match and eventually reached terms on a similar deal with Hibbert.
So now the Blazers can consider if they want to keep the high-priced Batum or take what they can get from the Timberwolves in sign-and-trade. The Blazers have seemingly rejected trade offers for Batum over the past three years from every team in the league, so don't expect them to struggle with this. They make take the full time, however, in an effort to restrict the Timberwolves by keeping the cap hold on the Batum offer in place.
Either way, it's put up or shut up time for the Blazers ... and wherever Nicolas Batum's "heart" is.