Blazers G Nolan Smith (concussion) hospitalized after Summer League hit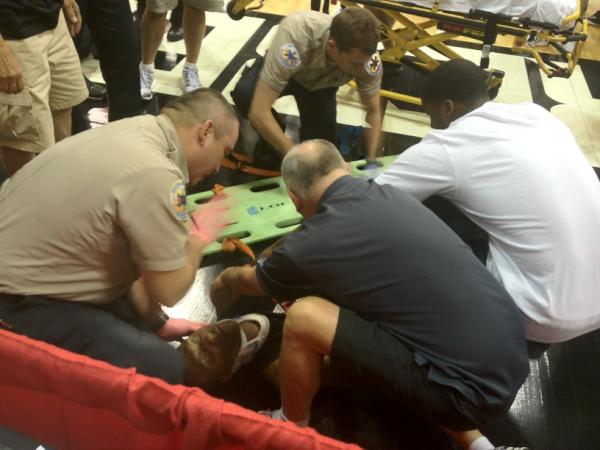 Nolan Smith had his neck stabilized after taking a blow to the head on Tuesday. (CBSSports.com)
LAS VEGAS -- A scary scene ended with mostly good news, at least considering the circumstances.
Portland Trail Blazers guard Nolan Smith was hospitalized after taking a blow to the head during a Las Vegas Summer League game against the Houston Rockets on Tuesday night.
Smith, who was hit in the head by Rockets guard Zoran Dragic will attempting a lay-up, fell to the court and lay motionless for several minutes. His eyelids could be seen twitching uncontrollably and he shielded his eyes from the light as medical staffers asked him "yes or no" questions.
After testing whether he had feeling in his legs, which he did, Smith had his neck stabilized by medical personnel and was carted off the court on a stretcher. Staffers told him that he was being hospitalized for "precautionary" purposes and the Blazers announced later Tuesday night that Smith had been released from the hospital after a CT scan showed "normal" results.
The injury occurred with less than a minute remaining in the fourth quarter of Tuesday afternoon's game and attending to Smith led to a lengthy delay. Summer League organizers opted to suspend the game, giving Houston a 99-88 victory.
Smith, 23, just completed his rookie season after spending four years at Duke University. He finished Tuesday's game with 27 points, 5 rebounds, 5 assists and 2 steals in 37 minutes.
He is not expected to be available for the remainder of Portland's Summer League schedule, which concludes on Saturday.