Daryl Morey: Rockets are 'probably not going to win the title next year'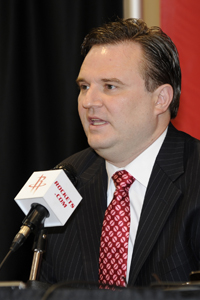 Rockets GM Daryl Morey was grilled in a radio interview.
(Getty Images)
Daryl Morey appeared on CBS affiliate Sports Radio 610 in Houston Thursday and was confronted by a series of tough questions about the prospects of the Rockets winning the NBA title. When confronted by the accusation that the Rockets were not title contenders, Morey responded with more than a little sarcasm.
Transcribed quotes via Larry Brown Sports:
"29 out of 30 teams every year are disappointed so you can move yourself to any freaking city and make that same comment," he said in response to Innes, who pointed out that the team doesn't appear to be close to winning a title.

"So you're brilliant," Morey continued. "We're probably not going to win the title next year. You can be in almost any NBA city and you're going to be right about that, so that's a great comment," he said sarcastically.
via Daryl Morey admits in heated interview Rockets probably wont win championship next year | Larry Brown Sports.
Even if the Rockets were able to manipulate a trade for Dwight Howard, they're not likely to win the title. Morey has moved into a position to potentially land Howard, but it would cost him too many pieces necessary to contend. Jeremy Lin and Dwight Howard does not a title team make.
Morey also commented on the prospects of bringing free agents to Houston, talking about Houston being an attractive market for free agents. The big key here is that Morey hasn't been involved in free agency much over the years, primarily because he doesn't overpay for them. Morey has managed to get good value for the players he's signed with a few notable exceptions (Trevor Ariza being one).
But Morey hasn't been able to convince any major free agents, the superstars of the superstars, the elite, to even consider Houston as an option. That's put them in the position to either have to trade or draft one. The situation that Morey has put himself with recent moves suggests that's where they're headed. If the Rockets don't land Howard, they look headed for the lottery. But will they be bad enough to land a franchise changer? That's the dangerous middle ground that gets teams stuck in no-man's land.
The Rockets aren't winning the championship next year, but if we're going off reasonable probabilities (there are always outliers with matchups and injuries as playoff factors), who is? The Heat, Thunder, Lakers, Celtics, Bulls, and Spurs have a good shot at the title. After that? Teams with superstars are still on the outside of the list. Winning a championship for teams that aren't in L.A., Chicago, New York, Boston, or Miami (apparently) is a process, and Morey's been after it a long time. If he can't get the team headed in that direction fast, this kind of pressure is only going to increase.