Report: Brooklyn Nets to play host to Knicks in season opener Nov. 1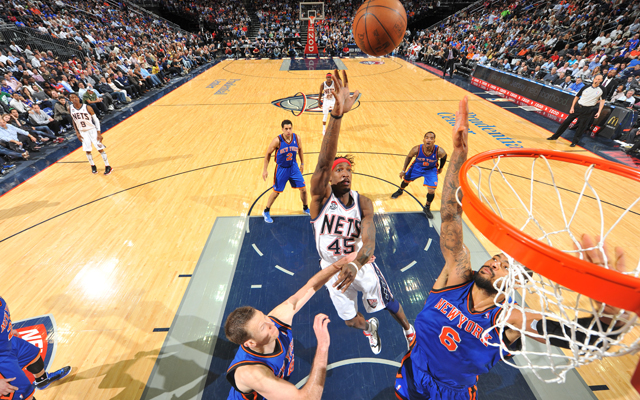 The Nets will welcome the Knicks to open the season Nov. 1, according to a report.
(Getty Images)
The NBA is going to get the rivalry kicked off right away.
Newsday reports that the Brooklyn Nets will open their inaugural season in Brooklyn vs. the New York Knicks at the Barclays Center on Nov. 1, one night after the NBA's season opener. As previously reported, the Knicks open their home season at Madison Square Garden the next night vs. the Miami Heat.
The Nets opening vs. the Knicks is great for fans, great for the NBA who get to introduce the new intra-Gotham rivalry to a national audience on TNT, and great for New York to showcase two star-studded teams who, if healthy, will feature Carmelo Anthony, Deron Williams, Amar'e Stoudemire, Joe Johnson, Gerald Wallace, Jason Kidd, Brook Lopez, Tyson Chandler, Raymond Felton, and Kris Humphries (!).
For the two teams? It's a tough start against a quality team and a brutal opening for the Knicks.
The big question will be how big the presence of Knicks fans will be in the new arena. The Nets have sold a high number of season tickets, but there's just no way of knowing how the crowd will manifest itself. It will almost surely be split between the two fanbases, but the degree to how much support Brooklyn gets off the bat against the established New York team will be fascinating. It could make for a really fun ad divisive atmosphere.
Either way, it's going to be a huge game to kick off the NBA's new gem of an arena in the greatest city on Earth. Get your popcorn ready.