Cuban 'expects' to re-enter luxury tax in the future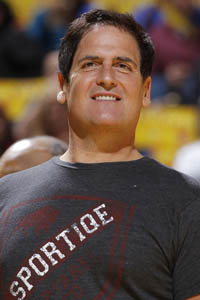 "I've got 99 problems, but the luxury tax ain't one."
(Getty Images)
Mark Cuban has gone on a more public binge of comments since the Mavericks got done remaking the team in a rebuild/reload/restock-while-keeping-the-future open series of moves which included the addition of O.J. Mayo and Darren Collison along with Chris Kaman and Elton Brand.
He spoke with Ken Berger of CBSSports.combehind the reasoning for his moves, and he spoke with ESPN Dallas specifically about the prospect of returning to the luxury tax in the future.
At some point, the Mavs believe, their ability to absorb contracts with cap space will facilitate a major trade, or being a rare big-market team with cap space will ultimately land a big fish in free agency.

If either occurs, be sure that Cuban won't be afraid to cross the luxury tax line on a year-to-year basis to build a contender around a superstar with an eye on only the four-in-five chronic taxpayer crackdown.

"I expect to go into the luxury tax in the future," Cuban said, although declining to specify the obvious scenario in which he would. "I'm not going to lay down my cards in public."
via Mark Cuban keeping Dallas Mavericks' options open with new CBA restrictions - ESPN Dallas.
The comments from Cuban are timely, considering a recent study by Mark Deeks of ShamSports.com which looked at who has paid the most in the luxury tax since the inception of the tax 11 season ago.
Guess who's No. 2 all-time in luxury tax payments? Your Dallas Mavericks, with over $150 million in luxury tax penalties. (No.1 is, of course, the New York Knicks with $190 million which is just an obscene amount of money for so few playoff wins.)
So Cuban's shown that he's not afraid of putting the money up to compete. We thought that the new luxury tax being implemented in 2014 was simply scaring teams off because of financial reasons, and to be sure, there's a measure of cost-saving in some of these moves. But Cuban's fully willing to spend to win, he's just going to do it for the right reasons, on the right players, at the right time.
That's yet another reason why he may be the best owner in sports.