2012-13 NBA Schedule Breakdown: 35 can't-miss games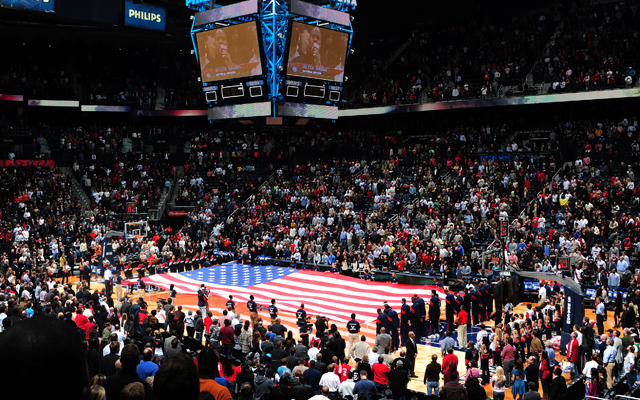 This season, we get all 82.
(Getty Images)
There's one siginficant improvement in this season's NBA schedule over last season's: It's 82 games. No lockout, no abbreviation, no condensed schedule, no back-to-back-to-backs. It's back to normal.
And as it typically goes, within each schedules there your usual dregs and ho-hum matchups and there are big, storyline-filled mega showdowns. So let's get to it. What are the can't-miss games for this NBA season? Here are 35 you need to clear the calendar for, excluding the obvious can't-miss slate of Christmas games that you were planning on watching anyway.
Oct. 30: Boston at Miami
As you might expect, the NBA kicks things off in a big-time, multi-layered storyline way. It's not only the Celtics taking on the Heat in a rematch of the Eastern Conference Finals, but it's Ray Allen's first appearance in Miami white. And not just that, but against his old ubuntu mates. Plus, the first LeBron banner gets raised. In front of the team so close to stopping them.
Oct. 30: Dallas at LA Lakers
Because it's our first look at the remade Mavericks? Nope. Because it's Steve Nash's first game as a Lakers. Over/under for the number of times you say, "Whoa, this is weird" while watching Nash play as No. 10 in Laker yellow is set at 55.5.
Oct. 31: Houston at Detroit
An otherwise vanilla game, but now, it's Linsanity time in Houston. The Jeremy Lin era starts on the road against the Pistons -- who have kind of an intriguing roster in their own right with rookie Andre Drummond, Greg Monroe, Austin Daye and Brandon Knight -- but we immediately get to see how Lin fits. Do the Rockets play with him as the offensive focus like it was at the height of Linsanity in New York? Or does he operate in a more traditional point guard manner? Linsanity might've taken a hit moving away from the Big Apple, but I'll definitely be locked into this one.
Oct. 31: San Antonio at New Orleans
The first look at No. 1 overall pick Anthony Davis. And not only that, but the first look at a rebuilding, and expected to be very entertaining, Hornets team. And not only that, but Davis playing the player that so many have compared him to in Tim Duncan. And not only that, but, OK, that's pretty much it.
Nov. 1: New York at Brooklyn
The opener for the shiny new Barclays Center and the renewal of what could be a serious rivalry. And I can't wait for us all to immediately start asking question about the winner of this game being a contender.
Nov. 2: Miami at New York
It's LeBron's first trip to Madison Square Garden as a champion. That should be fun. Bron's title swagger will be oozing.
Nov. 2 Denver at Orlando
The game itself isn't all that intriguing, but the pre-game festivities will be. Will Magic fans boo Dwight Howard (assuming he's still there)?
Nov. 2: Clippers at Lakers
The first of four meetings between the two Staples Center roomies. The Clippers quietly had themselves a nice little offseason adding helpful pieces while the Lakers made the splash with Nash. Los Angeles is the land of point guards now as CP3 and Nash go head-to-head. That should be a fun one.
Nov. 7: Brooklyn at Miami
The Nets are desperately trying to build a roster that can compete with the Heat and here's the first look at if they're anywhere close. The Nets kind of match up nicely with Miami, but they'll find out quickly where exactly they're at early on.
Nov. 11: Orlando at Brooklyn
Should Dwight Howard dress in the home team's locker room before the game (assuming he's still with the Magic)? And will he get the biggest ovation of any player announced in the starting five? I have a feeling this game could be a little awkward.
Nov. 16: Phoenix at LA Lakers
Steve Nash is fortunate that his first look at his old team comes in his new home, but still, I'm sure it'll be emotional.
Nov. 29: San Antonio at Miami
If the Spurs hadn't caved and lost that 2-0 Western Finals lead to the Thunder, this would've been the NBA Finals matchup. And how would LeBron have looked against Duncan, Parker and Ginobili? We'll never really know, but this will at least present an idea of it.
Dec. 2: Orlando at LA Lakers
A pretty good time to go ahead and complete the trade. Saves everyone some time and expense. Just have Dwight Howard move over to the Laker locker room and Andrew Bynum to the Magic one.
Dec. 7: LA Lakers at Oklahoma City
A rematch of last season's playoff series and a showdown between this season's two likely Western favorites. The Thunder have established a little dominance over the Lakers as of late, but this is a semi-rebuilt Laker squad that will have a different look and feel when it rolls into Loud City.
Dec. 17: Houston at New York
It's not going to be LeBron-returning-to-Cleveland levels of hype, but Jeremy Lin's return to MSG will be big. Fan reaction will be interesting, as well as his performance in a pretty heavily covered and critiqued game.
Dec. 29: New Orleans at Charlotte
It's No. 1 versus No. 2. And while Anthony Davis and Michael Kidd-Gilchrist won't be guarding each other, seeing the top two picks play is always interesting.
Jan. 4: Chicago at Miami
Unlikely there will be any Derrick Rose, but it's still the Bulls against the Heat. Despite Rose's absence, the Bulls will likely still be in the top three or four in the East and considered one of the top competitors to Miami.
Jan. 11: Oklahoma City at LA Lakers
Round two.
Jan. 16: Brooklyn at Atlanta
It's not exactly the most marquee return, but Joe Johnson plays in Atlanta for the first time since being unloaded to the Nets. The Hawks fans that are there will likely boo him. Which won't be all that surprising because a lot of them booed him when he was on their team anyway.
Jan. 17: Miami at LA Lakers
With the Lakers' offseason improvements, the talk of a Kobe-LeBron Finals will be rekindled. January is a long time from it possibly happening, but it's at least a tease.
Jan. 27: Miami at Boston
Ray Allen's return. Oh boy. Or should I say, "Oh boooooooooooooooooooooooooooooooooooooooo boooooooooooooooo booooooooooooooo."
Jan. 27: Oklahoma City at LA Lakers
Round three.
Jan. 30: LA Lakers at Phoenix
Steve Nash will be wildly cheered by Suns fans and it'll be emotional. That always makes for good watchin'.
Feb. 7: LA Lakers at Boston
The greatest rivalry in basketball -- and maybe sports -- finally has its time. The luster is still there as the two teams will be near the top of their conferences and thinking championship once again.
Feb. 14: Miami at Oklahoma City
It's the Game 6 we never got. The Heat finally make a return to Oklahoma City. The last time these teams met there the Heat stole Game 2 and left Thunder fans walking out of their own building wondering if they'd see their team again. And they didn't.
Feb. 21: Miami at Chicago
Derrick Rose is expected back sometime in early March. Well, this is kind of close. And it would be a pretty cool time to return taking on the defending champs at home, right? Mark it down, Derrick. This is when you come back.
Feb. 22: Orlando at Memphis
The Magic's first game after the trade deadline. Who will Dwight Howard be playing for?
March 5: LA Lakers at Oklahoma City
Round four. Before the likely ensuing playoff rounds.
March 7: Oklahoma City at New York
Kevin Durant didn't get to make a trip to Madison Square Garden last season because of the lockout. And it seems that it's sort of a rite of passage for the league's best superstars to have their moment at MSG. So here's KD's time.
March 10: Boston at Oklahoma City
It had to wait a full year, but Jeff Green returns to Oklahoma City, a place where he was a huge fan favorite before being traded away. The Thunder loved him so much that general manager Sam Presti actually choked up at the press conference announcing the trade.
March 13: New York at Denver
He got lucky last year because of the lockout. But Carmelo Anthony finally has to face the Mile High City as the Knicks visit the Nuggets. We all might've moved on and forgotten as the Dwightmare has taken the place of Melodrama, but Denver surely hasn't.
March 20: Miami at Cleveland
I think we're all past the whole "LeBron returns" thing, at least nationally. But this is LeBron's return to Cleveland with the ring he never gave them. He comes back for the first time as a champion. And Dan Gilbert, who promised the Cavs would win a title before the "self-proclaimed King" would, has to sit there and watch.
April 4: San Antonio at Oklahoma City
The two Western Finals opponents will have rematched a few times already, but this one is late in the season and could have major seeding implications with it. Last season the Spurs took two of three from the Thunder to hold home court dominance in the Western Conference finals. Will that be on the line again here?
April 14: Chicago at Miami
OK, D-Rose should definitely be back by now.
April 17: Minnesota at San Antonio
It's the last day of the NBA regular season and it doesn't feel right not to have the Timberwolves in this list yet. With Kevin Love and Ricky Rubio, they're one of the most entertaining teams in the league. Hopefully you're not waiting until the last game of the season to figure this out.