Magic hire Jacque Vaughn as coach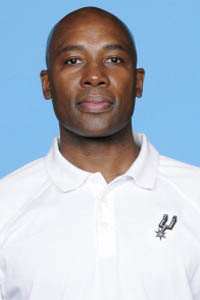 "Wait, you haven't traded Dwight yet?"
(Getty Images)
Update: The Magic have officially announced their hiring of Jacque Vaughn as coach.
Ken Berger of CBSSports.com confirms an Orlando Sentinel report that the Orlando Magic have hired Jacque Vaughn as their new coach, replacing Stan Van Gundy who was fired last spring.
Vaughn, whose playing career ended in 2009, has spent the past two seasons as an assistant coach with the San Antonio Spurs. Magic GM Rob Hennigan also has ties with the Spurs. Hennigan was recently hired away form the Thunder, where he worked under Thunder GM Sam Presti, a former Spurs exec.
You see how this works.
Vaughn has been openly questioned by former Magic player Shaquille O'Neal, who openly questioned why neither Mike Malone nor Brian Shaw were hired for the position. Vaughn missed a Summer League gam for the Spurs a week ago, and the absence was later reportedly revealed as his second interview with the Magic.
Vaughn enters a team in flux, with the Dwight Howard situation still unresolved, and a roster of aging players on longer contracts. How they'll respond to a young head coach, Vaughn is just 37, is going to be a major concern. But Vaughn comes with strong recommedations from arguably the best organization in sports, and that's going to carry some weight.