Magic Johnson: LeBron and Kobe 'definitely' would've made the Dream Team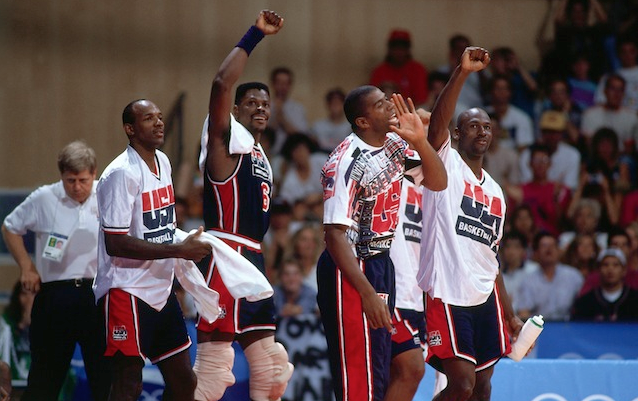 Magic Johnson would be fine with a few additions to the Dream Team.
(Getty Images
Magic Johnson isn't giving the 2012 installment of Team USA a chance to beat 1992's Dream Team. But he is giving a few 2012 players a chance of making what many feel is history's greatest squad.
Via the L.A. Times, Johnson says Kobe Bryant and LeBron James would "definitely" make the Dream Team, with Kevin Durant having a good shot.
"You have to say Kobe would definitely make it," Johnson said. "He's unbelievable. We're so lucky and so fortunate we get a chance to watch Kobe play every single night here in L.A. LeBron is the best all-around player in the game so he would definitely make our team. Kevin Durant would have a shot as well. You have two definitely in with Kobe and LeBron."
It's a new angle on this completely ridiculous and already tired debate that will never have any kind of conclusion. But, if you add Kobe and LeBron, you have to subtract two. So who would have to go?
Obviously Christian Laettner, who Johnson himself singled out. If Kobe were to make the roster and find time, he'd have to do it as Michael Jordan's backup. Which was a spot owned by Clyde Drexler. I'd take Kobe over Clyde the Glide for sure.
The better question with LeBron is, would he be a starter? Because there's no question he'd make the roster. The Dream Team's starting five was Magic, Jordan, Larry Bird, Charles Barkley and Patrick Ewing. With Bird fairly beat up, it's reasonable LeBron would've started over him.
Durant is a close call because the Dream Team obviously didn't need more scoring. But Durant's length and shooting ability makes him an immense asset to any team. Basically, would you rather have Durant, or Chris Mullin? And before you dismiss Mullin, keep this in mind: He shot 14-26 from 3 during the tournament and averaged 12.9 points per game, fourth best on the team. So while Durant's length and versatility would make him an incredible addition, it's no given you'd take him over Mullin.
Kobe and LeBron though, absolutely. Subtract Laettner, subtract Drexler and you've just beefed up the Dream Team even more. Add those two guys and there's no doubt about it: Nobody is ever, ever beating that roster.