Anthony Davis impresses as Team USA obliterates Tunisia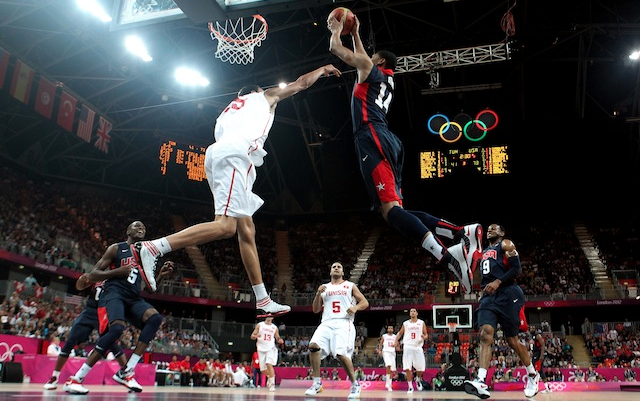 Anthony Davis was impressive Tuesday against Tunisia.
(Getty Images)
In playing the honorary Laettner Role for the 2012 Olympic basketball team, Anthony Davis hasn't had much opportunity to show what he can do outside of garbage time.
Luckily for him -- and us -- pretty much the whole second half against Tunisia was garbage time.
Thing is though, the No. 1 overall pick wasn't even supposed to be on this team. First, he rolled his ankle right before camp started which seemed to end his chances. Then he actually didn't make the team when the final 12 players were named. But an injury to Blake Griffin had Jerry Colangelo and Coach K lighting the sky with the Brow Signal and like that, Davis was on a team with LeBron, Kobe, Durant, CP3 and Carmelo before he's even played a single NBA game.
Despite the size issues for the Americans, Davis's talents haven't been needed thus far in Team USA's two wins. Because of extreme versatility throughout the roster, playing one true center in Tyson Chandler works fine and when he's not on the floor, going small with LeBron, Durant or Kevin Love at the 5 does the job.
Maybe that changes when the U.S. sees bigger teams later on like Argentina, Brazil and Spain. Or maybe it doesn't. But one thing's for sure: Coach K has to feel a lot better about throwing Davis in after the way he performed against Tunisia.
Yes, it was against Tunisia. A team that was spotted 54 points by Vegas (they covered!) and asked for autographs after the game. Regardless of that, Davis showed a ton of basketball instinct and skill in his 14 minutes on the floor. He scored 12 points on 5-of-5 shooting (all dunks), hit his two free throws, blocked a shot, stole a pass and grabbed a few rebounds.
But it was clear watching Davis play with a bunch of NBA All-Stars and superstars: He belongs on this team. He didn't look out of place. He didn't look lost. He fit. And as Doug Collins mentioned during the game on the broadcast, talk about an offseason training regimen for Davis. His coach Monty Williams was in the arena watching the game and has to just be giddy about a) Davis's incredible skillset and b) the kind NBA crash course he's getting.
Now, obviously, the 11 players Davis is playing with are a little different caliber than he'll play his rookie season with in New Orleans. Getting lobs from Chris Paul and Deron Williams is a little different than rookie Austin Rivers and Greivis Vasquez. That's not the point. We knew Davis was a no-brainer pick for the Hornets and we know that he'll make a good pro. But he's showcasing that he actually has value to the best team in the world. Value that could earn him more playing time and could help the United States win a gold medal.
And if you have a player on this team making those kind of contributions and he's a rookie, 19 years old and never played an actual NBA game? Then you probably have something pretty special.