C.J. Miles leaning towards the Lakers?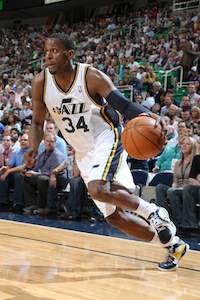 C.J. Miles could have a new team very soon.
(Getty Images)
Only a few moderately significant free agents remain on the market, with one of those being shooting guard C.J. Miles.
He's drawing a good amount of interest from a number of teams, including the Jazz, who want to keep him.
According to the Salt Lake Tribune, Miles has met with the Jazz, Cavaliers and Mavericks, but could be leaning towards the Lakers.
Unrestricted free agent small forward C.J. Miles has narrowed his options down to a few teams, a league source told The Salt Lake Tribune on Tuesday, and the longtime Jazzman is drawing serious interest from the Los Angeles Lakers.

The 6-foot-6, 222-pound Miles could make a decision during the next 2-3 days. If he signs with the Lakers, the source said, it'll likely be a one- or two-year deal via Los Angeles' mini mid-level exception. Miles, 25, has already met with Dallas and Cleveland since free agency started July 1.
Let me go ahead and answer what you're thinking: The Lakers are thin at shooting guard behind Kobe Bryant. They have second-year player Andrew Goudelock and Christian Eyenga. And as Kobe gets older, having him a solid backup would be a smart luxury. Less of a load on Kobe, and with Miles, a big wing defender that could play minutes at small forward too.
Miles though is likely looking for more than a mini mid-level deal. A mini mid-level is only about $3 million a year. And while Miles' stock has dropped some over the past season, he's just 25 and probably wants a longer deal.
But then again, there's a certain draw to the Lakers.
Miles averaged 9.8 points per game last season but on just 38.1 percent shooting and 30.7 percent from 3.