Paul Pierce says he won't seek an extension with the Celtics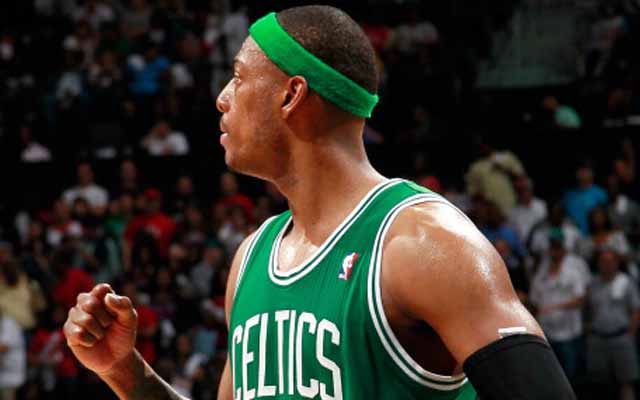 Could Paul Pierce really retire somewhere other than Boston?
(Getty Images)
Paul Pierce is 34 years old and could be a free agent next summer for really the first time in his life. (He's under contract for 2013-14, but it's not guaranteed as a team option.)
He's played all 14 of his NBA seasons in Boston and while he's obviously one of the most loyal players to an organization in the league, he told the Boston Globe he's not looking for an extension with the Celtics that would guarantee he finishes his career there. He wants to keep all doors open.
"I think I am going to play this one out," he said. "I want to see what it feels like to be a free agent for once in my life. I think I am going to play this one out. A lot can change in two years. My body [may not] be where I want it to be, I could retire, a lot of things could happen. I love the game. I made as much money as I possibly can. It's about winning a championship and if I feel like it's the right thing to do, maybe so [come back]. If I solidify my third year, maybe they opt out, so it's about keeping your options open."
Pierce will be 35 after this season and with the window rapidly closing on the current core of the Celtics, he might be willing to pull a Ray Allen and hitch his wagon to another competing team. Because as Pierce said, he's made his money. It's about finishing up his career on top.
A lot of it probably depends on where other key pieces are at after this season for Pierce. Doc Rivers is always potentially ready to walk away from the NBA and while Kevin Garnett signed a three-year extension this summer, things could be viewed much differently in Boston after this season depending on how the team performs.
General manager Danny Ainge has always been an itchy trigger finger kind of operator and was rumored to be dangling Pierce on the trading block last season before deciding to keep the team together for another run. After this season, the same kind of rebuilding project could become a big option for the Celtics and Pierce might not be part of it.
Even at 34 and after 14 seasons, Pierce has remained consistently productive for Boston. And while he wouldn't be a prime free agent target next summer, he would still certainly command a lot of attention and interest.
But would he really be willing to retire somewhere other than Boston? That's hard to imagine. Allen walking away was one thing; he only played with the Celtics for five seasons. Pierce though has been through it all in Boston for 14 seasons. The highs and the very lows. He's the franchise's No. 2 all-time leading scorer for crying out loud (and within reach of John Havlicek to become No. 1). He might want to feel the love of free agency and see what options he has available, but walking away from the Celtics would be a hard thing to do.