Kobe Bryant finally finds his game as Team USA rolls Australia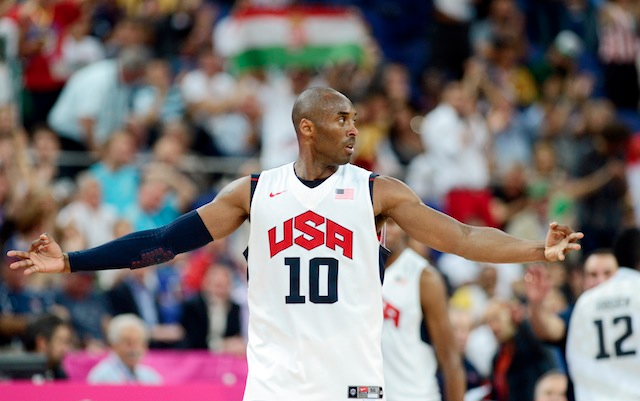 Kobe ain't done.
(Getty Images)
For a second there, it sure seemed like Kobe Bryant wasn't quite Kobe Bryant anymore.
He'd made only four of his last 23 shots, was forcing turnovers and clearly couldn't find his place on the floor. He was out of rhythm, out of sync and basically an offensive afterthought alongside LeBron James, Kevin Durant and Carmelo Anthony. He was turning the ball over, picking up terrible charges, airballing forced fadeaways.
You could feel non-Lakers fans licking their chops. The writing maybe is finally on the wall for Kobe. The guard has changed, the window is on its way down.
And then Kobe exploded for all 20 of his points in the second half, putting on a light show from the 3-point line that we haven't seen since, well, Durant and Melo did it a few games before.
A not-so-subtle reminder: Kobe's not done quite yet.
He told Craig Sager after the game that he used halftime to get himself angry. Asked what it was, Kobe didn't want to share. I'm betting it was him picturing his own ferocity at all the talking heads saying he's washed up after he poor play in the first half. Full disclosure: I had a good amount already written at halftime about Kobe and his struggles. It's why you don't write off The Mamba.
Still, an excellent shooting half doesn't, and shouldn't, completely wipe clean the uncomfortable play Kobe was suffering through early in this game and tournament in general. While his second half was outstanding, keep in mind he was only 1-of-5 in isolaiton (where he lives) and really got going essentially on all catch-and-shoot 3s.
It's pretty clear: It's a little awkward right now for Kobe. Every team post-Shaq he's been on has been all his. The Lakers are his and the 2008 Beijing Redeem Team was unquestionably his. Now, this is LeBron's team. And after that, Durant's team. After that, Chris Paul's and Deron Williams' and Carmelo Anthony's team. Somewhere down the line, you'd list Kobe out. He's a forgotten piece on this loaded roster. And I don't say that to slight him. It's just reality as you watch these games. He's so uninvolved offensively that you wonder what his role actually is.
Kobe is 33 years old. He's entering his 17th NBA season. He's played 1,161 games, not including his trips to the playoffs or Olympics. He's played more than 50,000 minutes. He has a ton of mileage on him. At some point, he will wind down. It's part of it. I don't think the London Olympics are the first sign of it necessarily, but it's certainly not the most encouraging thing. He's coming off a condensed season, he hasn't had much time off and he probably hasn't had a chance to go see his German superdoctor for a knee tune-up.
That just means he was having a bad Olympic tournament though. It doesn't mean his career was on the rails. Remember: Last season he needed just 37 points to win a scoring title on the last day of the season and chose to sit. He's older, yes, but he's not Mel Gibson in "Forever Young." He didn't age that much in the past three months.
Part of it is that Kobe understands his role on this powerful team, and kudos to him for getting it. There are times he's been a bit stubborn and isolated on the block or launched a contested 3, but mostly, he hasn't forced the issue to prove he's Kobe Bryant or re-establish his perch as the alpha dog. He's doing his part, accepting his minutes and fitting in.
His second half though was a reminder he can still play. He can still have a major impact for the United States. To this point, the U.S. hasn't needed him. But they might. Who can forget the fourth quarter in the gold medal game against Spain in 2008 where Kobe scored 13, including some big time shots late. That could be coming again, and it could be needed.
Before that second half against Australia though, Kobe had only been Kobe mostly in name, not game. It doesn't mean he's done, or over-the-hill, washed up or whatever you want to say. One day, that time will come and I'm pretty sure we'll all know it. That time though, isn't a few rough games in London.