Rod Thorn confirms Magic rejected offer that included Andre Iguodala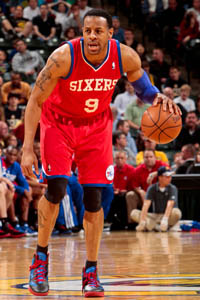 The Magic passed on Andre Iguodala.
(Getty Images)
If Andre Iguodala still isn't super-sold on Denver, he should thank his lucky stars.
Because he could have wound up with the Magic.
Rod Thorn confirmed on radio this week that the original construct of the trade that sent Dwight Howard to the Lakers, Iguodala to Denver and Bynum to Philadelphia was built around just the Sixers, Lakers, and Magic. But a sticking point, it turns out, was that the Magic didn't want the U.S. gold medalist and versatile forward.From Sports Radio Interviews (emphasis ours):
"It's interesting in that we've been talking to the Lakers and to Orlando for the last three weeks. We've been talking about different deals, various deals, and it never got out. In today's world that's something of itself. And then it really came down to, Orlando — they did not want to keep Iguodala because they're going in a different way. And they wanted to move him, and so they talked to a few teams and they ended up making the deal with Denver to move his contract, and that ended up making the deal. It took a while to do it but it ended up getting done."
via Sports Radio Interviews » Blog Archive » Philadelphia 76ers President Rod Thorn Opens Up on the Bynum-Howard Deal, Says Philly Was Originally Shooting for Howard.
OK, so on the surface, this seems obvious, right? The Magic were going to get their pick of any of those players. But there's been a lot of talk about how the Magic selectively lost because they "didn't get" any of the good players. This is a basic failure to understand a rebuilding process. Neither Iguodala nor Bynum helps the Magic, because they wind up in the same situation as before, with a star likely to leave in free agency.
Furthermore, they don't want anyone over the age of 27 coming back. They want all young pieces. By the time they're in a position to compete again, that player could be past 30. This is a long way back when your franchise center not only leaves, but detonates your roster, forcing you to take on big contracts to try and appease him, then murdering your leverage over the course of roughly a year.
But it's interesting to note that the Magic weren't in a situation where they were unable to acquire one of those players, they simply elected not to go that route.