Magic refused to trade Howard within division, removing Hawks from consideration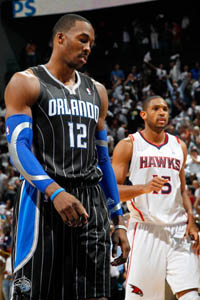 These two were never swapping jerseys.
(Getty Images)
The Magic were waiting to get the best offer. But there were also tactical elements involved in their decision of where to trade Dwight Howard.
After the New York Daily News reported that the Magic refused to trade Howard to the Nets because of how they perceived the Nets approached Howard, the Atlanta Journal-Constitution reports that the Hawks were similarly invested in trading for Howard, and the deal fell through for reasons other than the return package.
He approached the Orlando Magic about a trade for Howard in early July but was turned down. He never had the opportunity to share his vision with Howard and try to convince him that the dysfunction that Howard (an Atlanta native) was familiar with was a thing of the past. It never even got as far as being in position to convince Howard to sign an extension.

"We had discussions with Orlando about Dwight Howard," Ferry said. "They were apprehensive to trade him within the division."
via Ferry made pitch for Dwight Howard but was stopped short | Jeff Schultz.
Now that's a little crazy. The Hawks' offer would have included substantially more talent in return than what the Magic received, young, flexibile talent on top of it, and they could have taken on more money than the Magic sent out in the Lakers deal.
By the time that it would matter whether Dwight Howard beat them or not, Howard could have moved on to another team or could be a wholly different player. It's one thing to not want to see him four times a year, but it's another to pass up what was best for the franchise.
Yes, Howard being in the same division would have stood in the Magic's way of winning a division title in a few years (a feat absolutely no one cares about in the NBA), but it woud have been way down the line. The Nets offers wasn't substantially better than what Orlando got from the Lakers-Nuggets-Sixers deal. The Hawks offer almost assuredly would have been.