Stephen Curry to work out in Golden State in next rehab step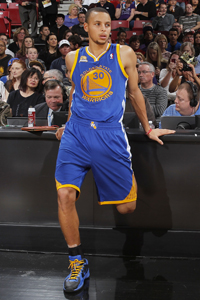 Curry is recovering from ankle surgery.
(Getty Images)
Stephen Curry is set to work out at the Golden State Warrior's practice facility this week for a significant step in his reab process. From CSN Bay Area:
Curry will arrive in the Bay Area on Tuesday night and then work out for four consecutive days at the team's downtown practice facility.Warriors general manager Bob Myers indicated that Curry has been working out much of the summer but that this stretch will mark a stepping up of Currys rehab and basketball-related work.

"I don't think he'll have any restrictions," said Myers, who was attending a ribbon-cutting ceremony to unveil the Warriors' technology center at College Track on Monday. "He's being cautious because he has time to be. But as far as full-go, he's there right now. He's not going to push it unnecessarily, though. He's going to be cautious. But as far as restrictions, they've all been lifted."
via Next test for Currys ankle comes this week.
Not having restrictions is pretty big deal for Curry, who needs to prove he can get and stay on the floor without having a step back.
The Warriors have mortgaged themselves on Curry-Barnes-Lee-Bogut as the future, and Curry is the primary creator for the team. They need him to get over his ankle issues. The results from this will be big. The Warriors can have a pretty good team if things go right.
You know, things going right being the way things have gone for Golden State the last few years/decades.