Jim Boeheim thinks LeBron might be the best player he's seen, including Michael Jordan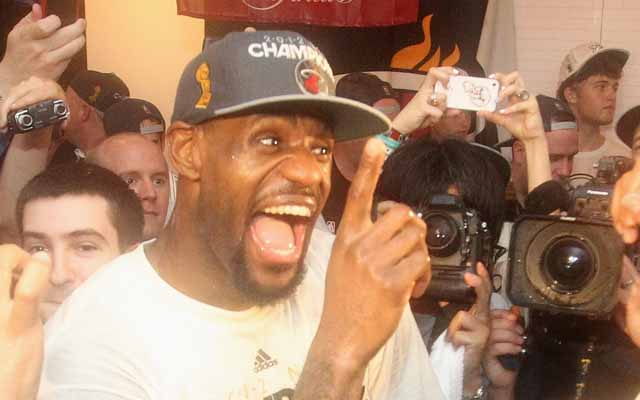 LeBron is taking over the basketball world again.
(Getty Images)
LeBron James has had one incredible year. He went from maybe the most criticized, scrutinized player in all of sports to winning his third MVP, rising to another level in the playoffs, winning an NBA title (and Finals MVP) and topping it with a gold medal.
He went from a punch line to instant legend status. And it's been tough for people to not get a little carried away with this Year of LeBron. But Syracuse coach and Team USA assistant couldn't help himself. He went there. Via ESPN Radio:
"He's a leader. He gets on the court, he tells people what to do … this guy can guard five [positions] … put him on anybody, he can guard him. I always felt Michael Jordan was the best player I've ever seen … I didn't think it was close … and I'm not so sure anymore … this guy is 6-9, 260 pounds and he's getting better … I know we've had great, great players through the years. He's like Magic Johnson with Michael Jordan-type skills as well."
Can't argue with LeBron's ability, talent and skillset. And now with him a champion, he has that checked off on his resume. He's playing at another level, raising his game to a stratosphere all to his own.
But he has a long, long way to go to reach Jordanian levels of greatness. Five more championships is a start, and that doesn't even ensure he's in a conversation with MJ.
I don't think that's Boeheim's point. Much in the same that Scottie Pippen tried to make, Boeheim's not saying that LeBron will top Jordan's career achievements, but simply might possess the most basketball ability he's ever seen.
Like Pippen, he's still pretty much wrong, but I think that's the point he's making.
Ken Berger of CBSSports.com dug into this and here's what he came up with:
But to suggest that, after one championship at age 27, James has surpassed Jordan as the greatest player a renowned basketball authority has ever seen? It is both silly and predictable -- and unnecessary. Bryant enters his 17th season in a few months, and only by virtue of two brilliant acquisitions by Mitch Kupchak appears to have one more legitimate shot at a sixth title to equal Jordan. Seventeen years. A lot can, and will happen for (and to) LeBron if he plays that long. Let's just enjoy his talent and see how it plays out, shall we?
The argument for Boeheim's point is well taken in that it's impossible to ignore LeBron's unreal ability. He can guard five spots and is as versatile as any player in history. For his size, speed and athleticism, I'm not sure the game has ever seen a player like LeBron James. In terms of making that kind of comparison to Michael Jordan, it's somewhat fair.
However, I'm not big on the talent and ability qualifier, because accomplishments matter. If you're talking about the most talented players in history, you could put a whole lot of guys that had otherworldly ability. Tracy McGrady, Harold Miner, Vince Carter and on and on. Yes, LeBron is a freak of nature and I think it's far too early to say he can't touch MJ. Because he has time left and with a championship under his belt, is on his way.
But you can't compare the two. It's not fair to either. LeBron James is LeBron James. And there's only one Michael Jordan.