NBA 2k13 to feature '92 Dream Team, 2012 Olympics team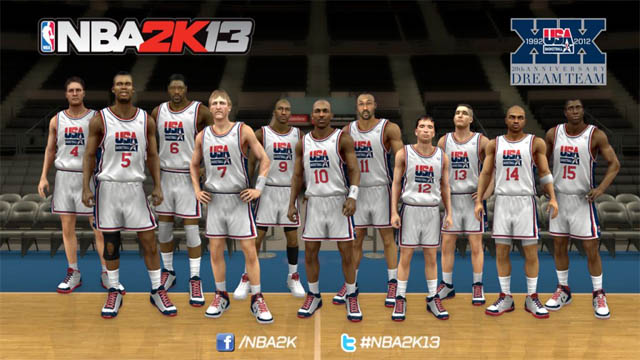 Pixelated greatness.
(2kSports)
Now you can settle a pointless debate in a completely invalid way!
Video game producer 2k Sports announced on Wednesday that NBA 2k13 would feature the '92 Team USA Olympic men' basketball team, AKA the Dream Team. It will also feature the 2012 men's Olympic men's basketball team.
See, because you can have them play to determine who's better. Except not at all, because that's not how reality works. But it's lots of fun, though.
Typically, players don't get involved in these kinds of debates. Michael Jordan made a few brief comments earlier this summer defending the Dream Team agaist Kobe Bryant's assertion that the 2012 team could take them. But that should be the end of... oh, there's money involved! Well, then, let's all give the sponsorship company the quotes they want. From USA Today:
"(Kobe) thought we were a little old, but only 2 players were over 30." Larry Bird and Magic Johnson were the only members of the Dream Team over the age of 30.

Jordan also pointed out the size difference. "One thing 2012 lacked was size," he said. The Dream Team had three players over 6-10, while Team USA 2012 had only one.

"We were much more solid defensively. They only had one shot blocker."

Regarding team chemistry, Jordan added, "We were a little smarter and well-groomed."
via Michael Jordan takes on the 2012 Dream Team.
Well-groomed? Has he seen what LeBron and Chris Paul wear? Those guys are fashion moguls. Oh, he meant basketball-wise. Well, yeah.
Oddly, the game doesn't feature Scottie Pippen, reportedly because a rights deal couldn't be worked out with Pippen. Barkley, who previously was absent from the 2k12 edition, is included, so you can dominate with the Round Mound of Rebound.
So this debate, which is unanswerable, and is very much apples to oranges, will continue. But at least it'll be a bit more fun. Plus, all those teams you beat by 100 once you learned to play 2k12 with the classic teams, you can now beat them by 200 with the Dream Team.