Suns sign veteran center Jermaine O'Neal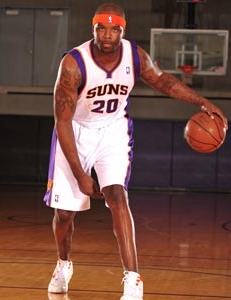 The Suns have added Jermaine O'Neal.
(Getty Images)
Jermaine O'Neal has battled injuries the past few years. So he's taking his game to the NBA fountain of youth.
The Suns have signed O'Neal, the team announced Wednesday. It's a one-year deal presumably for the veteran minimum.
"We are pleased that Jermaine will continue his successful NBA career in Phoenix," said Suns President of Basketball Operations Lon Babby. "We look forward to his contributions not only on the floor but as a veteran leader on our team."
O'Neal, 33, has played 16 NBA seasons but has only appeared in 49 total games the past two seasons because of injuries. After contributing well to the Celtics last season, his year ended abruptly after he needed wrist surgery.
Here's O'Neal's career resume: He has career averages of 13.7 points, 7.4 rebounds and 1.87 blocks in 912 games (680 starts) with the Portland Trail Blazers (1996-00), Indiana Pacers (2000-08), Toronto Raptors (2008-09), Miami Heat (2009-10) and Boston Celtics (2010-12). O'Neal is a six-time NBA All-Star, an All-NBA Second Team selection (2004) and two-time All-NBA Third Team pick (2002, 2003). He was also the winner of the NBA's Most Improved Player award in 2002.
What does he add to the Suns? A little size, a little interior depth and a little toughness. The Suns are transitioning from the Steve Nash era and traded backup center Robin Lopez last month so they're in need of help behind Marcin Gortat. O'Neal's health is the question and if he can stay healthy, he'll definitely add a little something to the bench.