Hornets agree to four-year extension with Monty Williams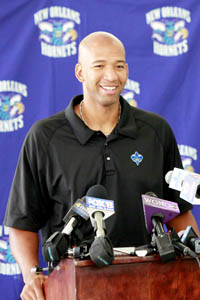 Monty Williams signs on for four more years with New Orleans.
(Getty Images)
The Hornets announced on Sunday that they've reached a four-year extension with Monty Williams to keep him as coach. The Times-Picayune reports the deal will keep him at the helm through 2016.
Williams walked into a horne.... nope, not going to make that pun, difficult situation in 2010 when he joined the team. After a solid first year that ended with the disappointment of David West's knee injury and a first-round loss to the Lakers, Williams was forced to deal with the Chris Paul trade catastrophe. Left with almost no remaining talent after Paul was traded and David West left in free agency, and with Eric Gordon on the shelf for most of the year, it would have been easy for things to fall apart for Williams.
But while the team struggled to get wins because of their talent, the team was prepared to play each night and remained competitive in nearly all of their games. That kind of approach shows the success of the program he and Dell Demps have put together. Now it's just a question if the same thing that seemed to work without the results for a team without talent will yield progress for a team with a healthy Gordon and No.1 overall pick Anthony Davis, along with some talent upgrades.
We finally get to see what Williams can do with a team from the ground up, and we'll get to see the whole process take shape.