Mikhail Prokhorov calls James Dolan 'that little man'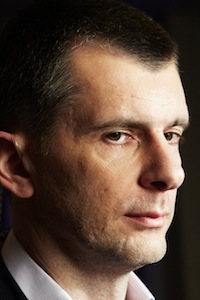 Mikhail Prokhorov is tall. James Dolan is not.
(Getty Images
Even before the Nets moved to Brooklyn, it seemed they were desperate for a real rivalry with the Knicks. At least in terms of competing for the hearts and minds of New Yorkers.
And it seems things are advancing that way. The Nets have energized their franchise with a new arena, a new logo, new colors, a new city and a new roster. While the Knicks have left some their fanbase disgruntled by letting Jeremy Lin walk away.
But as is with any rivalry, there needs to be some trash talking, especially from front office suits. Enter Mikhail Prokhorov, via a wonderful Nets-Knicks piece in New York Magazine:
(Prokhorov told me back in December that he plans on attending a quarter of the regular-season games and "all the playoff ones." He also made sure that I heard him call Dolan "that little man.")
Well, there you go. That's a start. Calling Dolan "that little man" is certainly a slam. If you're wondering, Dolan is a slight 5-foot-6, while Prokhorov stands 6-foot-8.
To Prokhorov, a lot of people probably are little men though. In fact, he's as tall or taller than 10 players on the Knicks' roster.
But it's clear what Prokhorov is after. He's trying to stir the pot, trying to rile the masses. He's trying to fire up both fanbases and make sure the Knicks know the Nets are knocking. Trash talk all you want though, the most damage will be done on the court. Beat the other side and finish with a better record, and that's all the stature you'll need.