Kareem Abdul-Jabbar questions whether Bynum can lead Sixers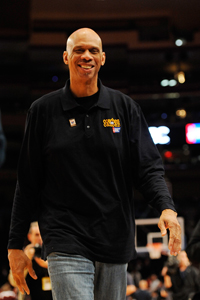 There's something about a pot and a kettle here...
(Getty Images)
Lakers legend Kareem Abdul-Jabbar said in an interview with the Los Angeles Times that he's uncertain whether Andrew Bynum can be the leader the Philadelphia 76ers need him to be after the big man was traded to the Philly earlier this month. Abdul-Jabbar also spoke of the circumstances surrounding when Bynum stopped working with the NBA's all-time leading scorer. From the Times:
"When I first started working with him, he was eager to learn," Abdul-Jabbar said. "He appreciated me shortening the learning curve. Once he figured he did everything he wanted to do in terms of learning, he didn't want me to bother him constantly going over the fundamentals."

Abdul-Jabbar said he was unsure if Bynum would thrive in a larger role in Philadelphia: "It's up to him to determine how much of a leader he wants to be and how to make that happen on the court. Some people like that position and adjust to it naturally. Other people aren't comfortable with it."
via Kareem Abdul-Jabbar knows what Lakers Dwight Howard is going through - Los Angeles Times.
Putting Bynum and "Cap" together was a bad idea to start with. Both are notoriously temperamental personalities, and Bynum's immaturity at the time was well known both externally and admittedly by the Lakers staff. He's grown since then, but even last season had a spat with Mike Brown over his decisions to shoot threes and not get back on defense; he's just a year removed from spiking J.J. Barea like a volleyball in the Mavs' sweep of L.A.
Abdul-Jabbar doesn't have a sterling reputation as a people person, either, but his point is worth considering. Bynum is now in a position where he has to not only be the biggest force on the court for Philly, helping them win games, but he has to be the leader for the club as well. It's a young team. There are veterans, but they need a strong personality, and Bynum is the sole All-Star.
It's an opportunity for the student to teach the master a thing or two, but it's going to take some things from Bynum we've yet to see: maturity and leadership.