LeBron James loves Akron, Ohio; Akron, Ohio loves LeBron James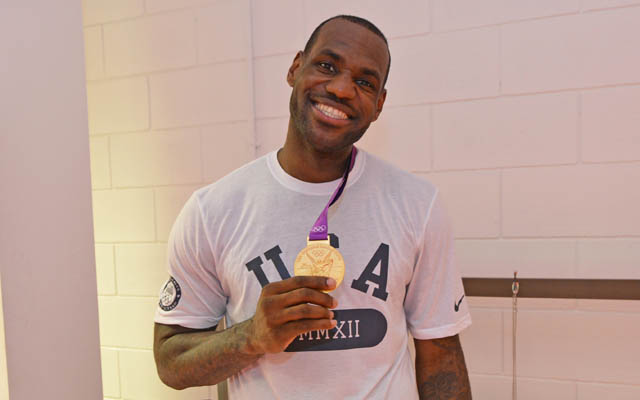 LeBron and his gold medal are popular in Akron.
(Getty Images)
In general, it's safe to say, the state of Ohio does not like LeBron James. Hate's a strong word, but many in the Buckeye state still hate capital-H Hate James with a burning passion after he abandoned their city in free agency in The Decision (on national television without telling them first in order to go play on South Beach with his friends).
But Akron, where James is from? That's a different matter.
James has always specifically repped Akron. After the Decision made him public enemy No.1 in Ohio, James still went back to Akron for his charity bike ride. He's remained a very active member of the Akron community after he left, his kids stayed for another year in school there (before heading to Miami last year), and has never turned his back.
They, in turn, still love him.
James wrote a letter last weekend talking about the program he started a year ago, Wheels for Education. The program inducts a sample of third graders, and provides them with educational and fitness support through high school. The first year was a huge success with 92 percent graduation rate. From the letter James sent:
Wheels for Education is so much more than a charitable activity. To me, it is an expression of my experience in Akron and what this community provided for me. I was no different than the Wheels for Education kids. These children are dealing with the same issues and obstacles I faced.

And they deserve the same support I was fortunate enough to get.

Here is the truth: Regardless of my physical talents, I would not be where I am today without the coaches, teachers, mentors and the entire community of Akron. They are the ones who ensured that I graduated from high school, stayed out of trouble and gave me the tools I needed to pursue my passion. And that's what Wheels for Education is all about: providing the support and safety net kids need to realize their dreams.

Today, I want to thank Akron's city leaders and the Akron Public Schools for all the support they have given to help this program become a success. It is crucial to our work, and it is crucial to the students who will benefit from our partnership.

I also want to take this opportunity to tell the people of Akron how much I appreciate all the love and support they have given me this year. After the 2011 NBA Finals, I came home to Akron. Being surrounded by friends, family and the people of this city helped me prepare for the season, strengthened me to become a better athlete and grow into a better leader. I am truly blessed to be a part of such an amazing community.
via LeBron James: Promise of an education - Editorial - Ohio.
And how did Akron respond?
Akron Mayor Don Plusquellic also unveiled the newest honor to Akron's most famous resident ­­— blue and white signs that will be posted at nine major entrances to Akron that proclaim the city his home.

"For my money, he's the greatest Akronite because he cares about Akron," Plusquellic said.
via LeBron returns to Akron to encourage kids to stay in school - Local - Ohio.
Yup. So now if you're from Cleveland and you go to Akron, you get to see "Home of LeBron James" on the signs as you're entering town. Can we take bets on how long it takes for those to get vandalized?
Either way, you can argue that Ohio still loathes LeBron and there's not a lot anyone can say in retort. But Akron? Akron loves the native son.
(Side note: Two morons in Browns jerseys went to the Wheels for Education event and heckled James. Look, boo the living crap out of him when he comes to Cleveland. Boo in the bars when he comes on Sportscenter. Burn his jerseys, even though that's too much. But those kids showed up because they, or their parents, wanted to make sure that they're in a better position to make something of their lives. James is spending time and money investing in kids to try and make their world better. Do what you want 364 days a year. But for God's sake, Cleveland fans, have some dignity.)
(HT: IAmAGM.com)