Mark Cuban says Kidd's decision to go to Knicks will keep him out of Mavs' rafters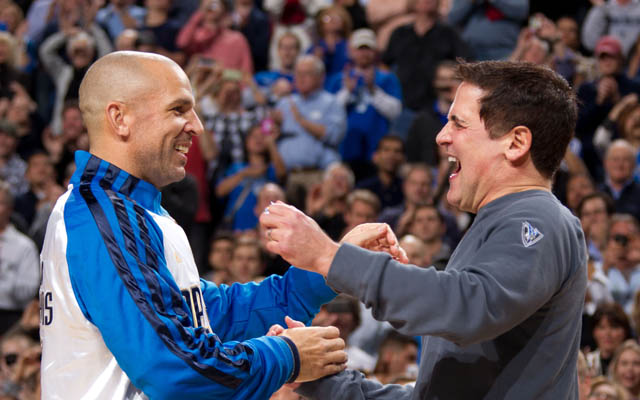 Yeah, these bro hugs are over.
(Getty Images)
Mark Cuban coveted Jason Kidd.
For over a year, Cuban worked to acquire Kidd from the Nets once the Nets left contention. He gave up Devin Harris, which seems funny now, but at the time was a huge concession, and a huge series of trade assets to get Kidd to pair with Dirk Nowitzki and Jason Terry. Eventually, Kidd helped them win a title. He's a hero in Dallas sports history, with two separate stops there. But when Kidd decided to leave the Mavericks this summer for New York, and with the way Cuban feels it went down, it created a rift.
And Cuban says that it splits him from having his jersey hung in the AAC. From ESPN:
That was Cuban's initial comment about Kidd during his hour-plus-long appearance Tuesday on ESPN Dallas 103.3 FM's Ben and Skin Show. Cuban quickly left himself a little wiggle room, but he's clearly perturbed about Kidd signing with the New York Knicks after committing to return to the Mavs.

"I was more than upset," Cuban said. "I thought he was coming. I was pissed. …

"J. Kidd is a big boy; he can do whatever he wants. But you don't change your mind like that. That was … yeah. I'm sure I'll get over it at some point, but as of now, I wouldn't put J. Kidd's number in the rafters."

"He's a good guy, but I just thought that was wrong," Cuban said. "You can't put a guy's number in the rafters when he decides he doesn't want to be there."
via Mark Cuban: 'No chance' Mavs retire Jason Kidd's number - Dallas Mavericks Blog - ESPN Dallas.
Kidd was thought to be joining Deron Williams wherever he wound up in free agency, but when the Nets retained him and made their other moves, the cap space vanished. So Kidd went to the Knicks to play for the other New York team while the Mavericks tried to retool with younger players like O.J. Mayo and Darren Collison and veterans like Chris Kaman and Elton Brand. The Knicks probably have a better shot at the title than Dallas, but it isn't by much.
Cuban said in the interview that Kidd did call him, but Cuban was in a museum with his kids so he didn't pick up. You have to give Kidd credit for at least calling, though. Cuban was clearly going to be upset with the decision no matter how it went down.
Does Kidd deserve to be in the rafters anyway? Kidd spent seven years of his career there, but the title year he was primarily a spot-up shooter, though his defense was huge. His early years were great but his best years were spent as a Net. It seems like a complicated answer. Cuban did say he thinks Jason Terry gets in.
Either way, looks like Kidd's off the "Shark Tank" Christmas card list.