Boston Celtics officially sign Jeff Green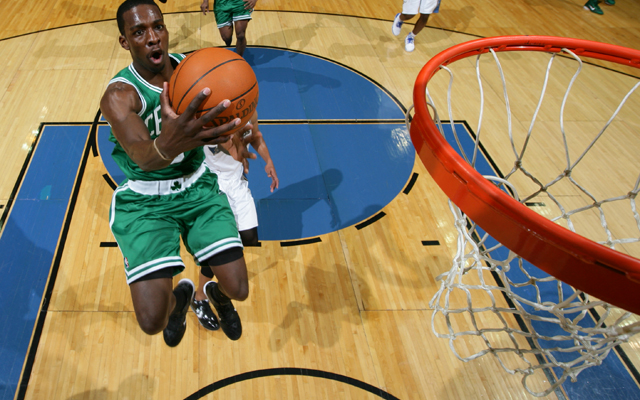 Jeff Green is officially back as a member of the Boston Celtics.
(Getty Images)
This deal took forever but he's not complaining, not after the trials that he's endured.
The Boston Celtics officially announced the signing of free agent forward Jeff Green on Wednesday.
"We are thrilled to be able to have Jeff back with the Celtics," said Danny Ainge, Celtics President of Basketball Operations. "Jeff's versatility on offense and ability to guard players out on the perimeter is something that we are looking forward to having on the court this season."

"I cannot wait to get back out onto the court and help this team towards our goal of winning another championship for Boston," said Green.
Terms of the deal were not officially disclosed, although SI.com reported the contract could be worth $36 million over four years.
The two sides had reportedly reached agreement on the deal back in July but delayed making the signing official.
Green, 25, missed the entire 2011-12 season after he was diagnosed with an aortic aneurysm and underwent season-ending heart surgery. He described the recovery experience in a Celtics.com interview.
"It was like starting from scratch," Green said of his daily rehabilitation. "Basically I felt like I had to learn how to walk again, run, breathe, everything. It was like being born as a baby but 25 years old, so it was tough. I had to re-learn different functions of my body… running, certain movements. I don't wish that on anybody."
By the time he takes the court for Boston's season opener, against the Heat in Miami on Oct. 30, it will have been more than 17 months since his last NBA game, a loss to the Heat in the 2011 playoffs back in May 2011.
The versatile forward, who holds career averages of 13.9 points, 5.5 rebounds and 1.6 assists, was originally acquired by the Celtics at the 2011 trade deadline in a deal that sent center Kendrick Perkins to the Oklahoma City Thunder. Boston had planned to re-sign Green in December 2011 after the lockout but the issue with his heart postponed that decision.
Back in June, the NBA awarded the Celtics a second-round pick from the Thunder because their cardiologists "were in possession of information about Jeff Green that was not shared" with Thunder management and that in turn "should have been disclosed" to the Celtics during the trade negotiations.