Report: Nets' value up 60 percent with move to Brooklyn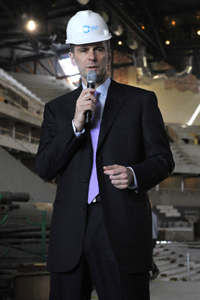 Barclays is boosting the Nets' valuee for Prokhorov.
(Getty Images)
The New York Post reports that life has gotten substantially better for the Nets as a franchise since the move to Brooklyn, despite the fact they have yet to even play a game in the new fancy Barclays Center:
As the Nets gear up for the first season in the soon-to-be-completed Barclays Center, the team is now worth roughly $575 million, according to one sports investment banker. That's 60 percent more than they were valued just last season by Forbes.

In addition, the team may post its first profit in a decade, The Post has learned.

The Nets are projected to generate $140 million in revenue and earn between $10 million and $15 million in profit, a source with direct knowledge said. Last year, the NBA franchise took in half that amount and lost nearly $30 million.
via Nets' value soars with move to Brooklyn; owner Mikhail Prokhorov's investment more than doubles - NYPOST.com.
That bit about the profit? That's a pretty big deal. They swung $45 million just by switching zipcodes, despite not having played a game and having spit out a massive payroll.
This maybe more than anything, shows you the value of market power in the NBA. When the Nets clear their debt obligations (Forbes put them at 79 Debt/Value for 2012), they're going to simultaneously be building off the success of the club that they've put together and all the other ventures that go into Barclays. So in three years, when that massive luxury tax bill comes in for Joe Johnson, Deron Williams, Gerald Wallace, and Brook Lopez? The Nets will be making so much money that debt, even after revenue sharing, won't touch them.
The Nets are building an empire, and they're building it on a foundation of cold, hard cash.
(HT: IAmAGM.com)