Report: Lakers Hall of Famer Kareem Abdul-Jabbar is getting his statue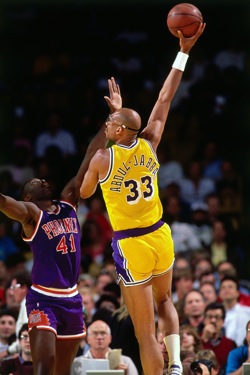 Abdul-Jabbar is getting his way.
(Getty Images
If you whine about it, they will build it. Evidently.
Kareem Abdul-Jabbar is getting his Staples Center statue, according to the LA Times.
The Lakers are to unveil a statue featuring Hall of Fame center Kareem Abdul-Jabbar at some point during the 2012-13 season, The Times has learned.

A firm date for introducing the statue outside Staples Center hasn't been finalized.
Obviously an honor well-deserved for the NBA's all-time leading scorer. His statue will be the sixth outside the arena, joining those of Magic Johnson, Jerry West, legendary team announcer Chick Hearn, boxer Oscar De La Hoya and hockey great Wayne Gretzky.
But there's a fun little catch to Abdul-Jabbar's statue. It would probably be happening regardless, but last year he went on a strange rant about it after the Lakers unveiled Jerry West's.
"I don't understand [it]," he said at the time. "It's either an oversight or they're taking me for granted. I'm not going to try to read people's minds, but it doesn't make me happy. It's definitely a slight. I feel slighted."
His business manager even sent out a statement on his behalf about it: "I am highly offended by the total lack of acknowledgement of my contribution to Laker success. I guess being the lynchpin for five world championships is not considered significant enough in terms of being part of Laker history."
The Lakers simply said they couldn't be building new statues every day and promised the next statue built would be Abdul-Jabbar's. Responding to that, Abdul-Jabbar also tweeted this last year: "Rumor has it that I will be getting a statue. A caveat for all my fans-don't hold your breath. Lakers don't care about me."
Well, if you were holding it, you can breathe again.