Reports: Miami Heat to eye recently released Sean Williams?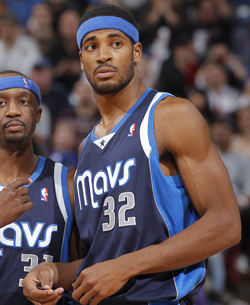 Sean Williams could be a target for the Miami Heat?
(Getty Images)
The Los Angeles Lakers traded for Dwight Howard and now it's time for all the other contenders to sign anyone that is big enough to foul him.
ESPN.com reported on Tuesday that the Houston Rockets have officially waived 6-foot-10 forward/center Sean Williams. In doing so, the Rockets avoided guaranteeing his salary for the 2012-13 season. Basketball-Reference.com reports that he was expected to make the minimum next season.
ESPN.com further reported on Tuesday that the Miami Heat have previously "expressed interest" in Williams and are "bound to consider him" for their 2012-13 roster. The Sun-Sentinel also reported that Williams "could be in play" for the 2012 NBA champions.
The Heat, who relied on a small ball approach to take home the crown last season, remain thin in the middle. Their fronline currently consists of two centers, Joel Anthony and Dexter Pittman, and a trio of power forwards: Udonis Haslem, Chris Bosh and Rashard Lewis. MVP small forward LeBron James can also shift up to play power forward or center if needed. Make no mistake: a big body at a cheap price is always in demand down on South Beach.
Williams, 25, has played for three teams over his 4-year NBA career. He spent the 2011-12 season with the Dallas Mavericks and the Boston Celtics, who picked him up in April to help fill in for the loss of Jermaine O'Neal to injury. Williams appeared in just three games for the Celtics and holds career averages of 4.2 points and 3.4 rebounds in 14.4 minutes per game.
Williams was traded to the Rockets as part of the 3-team sign-and-trade that sent guard Courtney Lee from Houston to Boston. Former Celtics guard E-Twaun Moore, who was also released by the Rockets, is reportedly expected to sign with the Orlando Magic later this week.
The Rockets, who unsuccessfully chased a blockbuster trade for Howard, had more than 20 players on their roster at various points this summer. The NBA's roster limit is 15 players.