Dwight Howard takes out full page ad in the Orlando Sentinel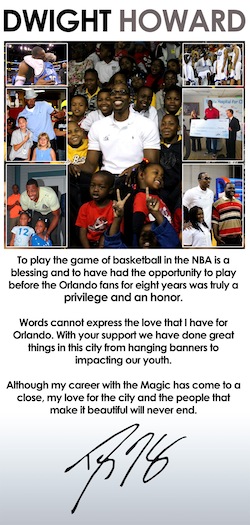 Dwight Howard's ad.
(Orlando Sentinel)
So, we all good now, Orlando?
After a torturous year with Dwight Howard that mercifully ended a few weeks ago with a trade sending him to Los Angeles, Orlando finally wiped their hands clean of the nightmare.
But Sunday, Howard extended an olive branch of sorts by taking out a full page ad in the Orlando Sentinel. It reads:
"To play the game of basketball in the NBA is a blessing and to have had the opportunity to play before the Orlando fans for eight years was truly a privilege and an honor.

Words cannot express the love I have for Orlando. With your support we have done great things in this city from hanging banners to impacting our youth.

Although my career with the Magic has come to a close, my love for the city and the people that make it beautiful will never end."
The ad appears on page C7 in Sunday's edition.
Obviously, in what seems to be a gesture of attempted goodwill from Howard will be taken more as an insult by a lot of people. The things Howard has said over the past year have been nothing but empty words. The talk of loyalty and love for the city was followed up with two-faced trade requests and decidedly snaky actions.
It's something that Howard didn't have to do. He could've just moved on to L.A. and put Orlando completely in his rearview mirror.
But I'm sure he has some extremely sentimental and emotional feelings toward the city. It's where he was drafted straight out of high school. It's where he spent the first eight seasons of his career. While his exit was ugly and the whole process leading up to it was almost sickening, I'm sure Howard's love for Orlando is genuine. He's trying to do the right thing, trying to make a classy move to say thanks.
Still, something tells me that Howard's not going to get the benefit of the doubt for Magic fans. It might be a heartfelt thank you, but I'm sure it doesn't make it any less offensive to some. Maybe an acknowledgment of the disaster of his departure would've helped. Or an acceptance of responsibility.
Really, it just kind of seems like a clear lack of self-awareness of the misery he put the fanbase through. Surely he's not oblivious to it, but just choosing to ignore it. Or at least attempting to move past it by calling back on happier times. And if you'll notice, he never thanks the Magic or talks of his love for the organization. He only mentions the city of Orlando.
Howard's not going to be winning back any fans in Orlando with a simple generic thank you in the paper, but then again, he probably knows that. And probably doesn't care all that much either. He got what he wanted.