Reports: Heat to give former Knicks C Josh Harrellson a second 'try out'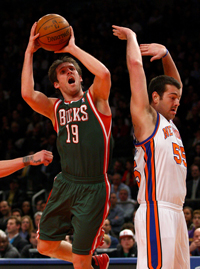 Could the Heat use Josh Harrellson's innovative defense?
(Getty Images)
Will the new South Beach swag be knee-length denim?
The Miami Heat are reportedly eyeing former New York Knicks center Josh Harrellson to help fill out their roster.
Harrellson, 23, was a second-round pick in the 2011 NBA Draft and spent his rookie season with the Knicks, where he averaged 4.4 points and 3.9 rebounds in 14.6 minutes per game over 37 appearances.
Back in July, Harrellson was traded to the Houston Rockets as part of a package that netted veteran center Marcus Camby in return. The Rockets later waived Harrellson in August and he is currently an unrestricted free agent.
After working out for the Heat recently, Harrellson tweeted on Monday that he was "heading to Miami for hopefully the next 9 months."
ESPN.com reported that Harrellson would be working out for the team again this week. The Sun-Sentinel further reported that Harrellson was coming to a "one-week tryout" this week, although no agreement has been reached between player and team. The paper also noted that Heat will be taking a look at a number of players in a "pre-camp camp" this week.
The Heat currently have two open roster spots. Miami has also been linked to interest in unrestricted free agent big man Sean Williams.
Back in January, Harrellson broke his right wrist, an injury that sidelined him roughly five weeks.
A hard-working rebounding and energy specialist, Harrellson was a cult hero while at the University of Kentucky, where he became known as "Jorts," slang for jean shorts.