Erik Spoelstra says the Heat will play faster this season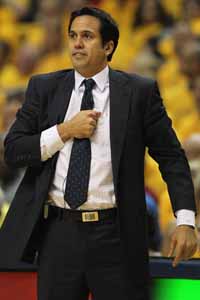 Erik Spoelstra wants the Heat to run even more this season.
(Getty Images)
Prepare to be afraid, NBA. Very afraid. The Miami Heat want to go faster.
Via the Sun-Sentinel, Erik Spoelstra says he hopes the Heat have another gear.
"I hope to play faster," Spoelstra told WQAM in Miami. "We turned it up a gear last year and I think we have the personnel to hopefully go even faster. And I think with a normal training camp and a full season, we can build that habit a little bit more."
The Heat were probably the league's most ferocious transition team last season, possessing a terrifying ability to go end-to-end in a matter of seconds. With LeBron James and Dwyane Wade leading the breakouts, Miami could fast break you to death.
The Heat went from 20th in pace in 2010-11 to 16th last season, averaging 91.2 possessions per game. Obviously the challenge in playing faster is to maintain your defensive intensity, not letting that slip while you speed up the game.
While more possessions for LeBron, Wade and Chris Bosh are good, if you're not defending as well, it doesn't have the same kind of impact. Defense though never really has been a challenge for the Heat, as they've been one of the tops in the league since LeBron came to town.
The Heat seem to be at their best when playing quicker. LeBron is a brilliant improvisional player who can seamlessly blend in between positions on the same possession. Playing faster shouldn't be much of a challenge for the Heat and with the addition of Ray Allen, opening up the pace could create more looks for him.
Some teams talk up running more and don't know how to deliver. But for the Heat, it's fairly simple with LeBron quarterbacking you. He's a one-man fast break at times. And letting him steamroll a defense is sometimes the most impossible offense to guard in the league.
A faster Miami Heat is a scarier one. As if they weren't already scary enough.