Brian Scalabrine retiring to the TV booth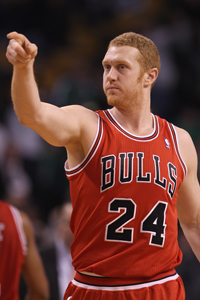 Brian Scalabrine is done.
(Getty Images
The NBA's most-beloved human victory cigar is putting himself out.
After 11 NBA seasons, Brian Scalabrine is officially retiring, he told Yahoo Sports. Most recently with the Bulls, Scalabrine said he wanted to play another season but couldn't find any takers.
"There was zero interest [in me]," he said. "Not some, but zero."
Scalabrine is one of those NBA players who made a successful NBA career out of very little. He was cut twice in high school, didn't have any scholarship offers but finally found a landing spot with USC after a solid junior college career. He was a second-round pick of the Nets in 2001 and just found a way to hold on.
Scalabrine found his niche as a locker room and bench guy, adding veteran leadership and often some much-needed levity to tense situations.
It's an interesting question actually: Has there ever been a more popular 12th man in the NBA? As Sergio Gonzalez of CBSSports.com said, "If there was a 12th man Hall of Fame, he'd be the Bill Russell of it." I don't really think you can argue with that.
Scalabrine said he had an offer from Tom Thibodeau, who coached him in Boston and Chicago, to join the Bulls staff. He declined, instead taking a TV offer to join Celtics broadcasts this season. He'll work three preseason games and eight regular-season games, as well as some studio work.
"Saying no to Thibs was the hardest decision I've ever had to make," he said. "I thought it would be great to work with him and the Bulls, but I think a trial run with TV is the way I want to go right now."
In 11 seasons, Scalabrine averaged 3.1 points and 2.0 rebounds per game in 520 appearances.