Derrick Rose buys stake in Chicago pizza company, will have his own pie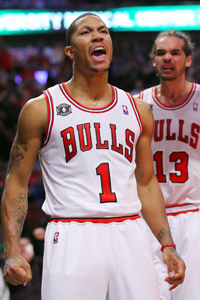 "I said deep dish!" (All Chicago-style is the same dish.)
(Getty Images)
When Derrick Rose touches the sky like a big pizza pie ...
I'm sorry, that was impossibly lame.
Anyway, Rose is going to have his own pizza from famous Chicago restaurant Giordano's, which he's bought a stake in.
From ChicagoBusiness.com:
While Chicagoans anxiously await the return of Derrick Rose to the court following surgery to his torn ACL, the Bulls star will be popping up in ads starting this month for the newly revamped Giordano's pizza chain.

The restaurant announced late Wednesday that Mr. Rose has become an equity owner and new national spokesman for the company, which is overhauling its menu and turning its attention to markets outside Chicago.

"I've always been a big fan of their stuffed pizzas," Mr. Rose said in a news release. "I'm working right now on my own signature pizza that we plan to introduce very soon. I'm actually pretty good in the kitchen."
via Chicago Bulls star Derrick Rose buys stake in Giordano's pizza chain - Blogs On Sports - Crain's Chicago Business.
Interestingly, the Bulls logo can't appear on any of the advertisements because of their arrangement with DiGiorno.
From the big picture, it's good to see Rose making these investments at his age. It sets him up for the long-term business-wise and creates a stable portfolio. Giordano's, whose wait times are obscene, is not going out of business any time soon.
But more interestingly, what should go on his pizza?
I'm thinking Canadian bacon, since it's a meat, but not usually thought of first, much like Rose as a point guard. Clearly it needs lots of onions, since the kid has them by the wheelbarrow.
I could go on, but after that "That's Amore " departure, I should quit while I'm ahead.
(HT: IAmAGM.com)