Mitch Kupchak wishes the Lakers were younger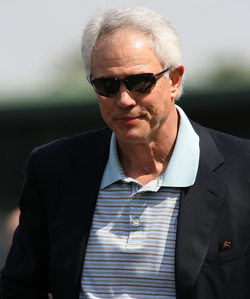 Nothing but the best for the Lakers (Getty Images)
Usually when a franchise lands a Hall of Fame point guard and the best center in the league in his prime in one offseason, its general manager is pretty happy with life, feeling strong and good. Instead, Lakers GM Mitch Kupchak has a different set of standards, most notably the ability to always demand more, better players.
So when SI.com asked him about how happy he was with the Lakers' offseason that netted a starting five of Steve Nash, Kobe Bryant, Metta World Peace, Pau Gasol, and Dwight Howard, Kupchak wasn't doing backflips.
SI.com: Because you're obviously taking the measured approach with how you look at this team, what jumps out as far as concerns or things to watch?

Kupchak: A perfect example is that a lot of people say, "Hey, Mitch, you've got a great starting five, are you worried about anything or could you possibly wish for anything more?" And the first thing that comes to my mind is, "Yeah, I wish they were all 25." That's how I look at things. Yeah, it's a great group, but I wish they were younger.
via Mitch Kupchak cautiously optimistic about new-look Lakers - Sam Amick - SI.com.
Age is the biggest concern with the Lakers. Everything else adds up to a title, or at the very least a Western Conference finals appearance. But the issue of how many miles they have on them -- of Kobe's finger, knee, and hand; Nash's back -- these represent a threat to their proposed dominance and even before you get to the issue of Howard's back.
But at the same time ... jeez, Mitch. You got Nash and Howard. You have one of the best teams in the league. Go have a margarita and pat yourself on the back, will you?