Cavaliers re-sign Alonzo Gee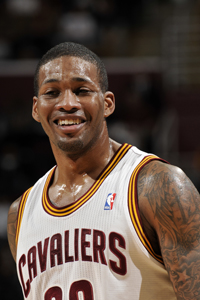 Alonzo Gee is back with the Cavs.
(Getty Images)
The Cavaliers announced Monday they have re-signed forward Alonzo Gee to a multi-year deal. The Cleveland Plain-Dealer first reported the agreement.
Gee started for most of the year for the Cavaliers and has proven to be a valuable role player after coming out of the Toros' D-League system. He's an athletic defender who can finish in transition, and while he doesn't have the star skillset to be a high-usage player, he works well in several different kinds of lineups.
The Cavaliers had wanted him back but only for the right price. Suitors never really developed for the restricted free agent, or at least few were reported, and the Cavs were able to get him back on a deal that is comfortable for them.
It's a good deal for both sides, as the AP reports it's a three-year deal for $9.75 million. That's a solid rate, if below what Gee was likely looking for. The Cavs need him with their current depth at the position.