Dwight Howard has first training session with the Lakers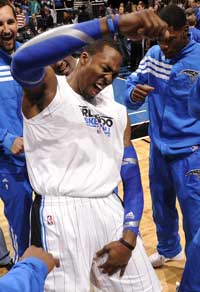 He's definitely going to need a healthy back to do that again.
(Getty Images
The Lakers might have Dwight Howard, but for now, they only have his name on paper. Because with the big man recovering from spinal surgery, there's no real timetable for his return.
But a step in the right direction was taken Monday as Howard actually began work as a Los Angeles Laker. Via the O.C. Register:
Details are scarce and Lakers spokesman John Black declined to comment, but Howard on Monday had his first hands-on session with Lakers athletic trainer Gary Vitti and head physical therapist Judy Seto at the team's training facility in El Segundo.

Howard is rehabilitating after April 20 spinal surgery, and no one has been ready to commit to a day, week or even month when Howard will make his Lakers debut. But the level of mobility and strength Howard is already showing has to be encouraging for anyone hopeful he'll be jumping for that opening tip-off Oct. 30 against Dallas.
Howard said at his introductory news conference with the Lakers that he will not rush back under any circumstances, and wouldn't play until he felt he was completely 100 percent.
He played through the injury last season with the Magic before finally deciding enough was enough. In something Stan Van Gundy called "courageous," Howard put up 20 points and 22 rebounds in a win over the 76ers in his final game before shutting it down.
Howard's been an extremely durable, tough player during his NBA career, only missing seven games in his first six NBA seasons. Last season's back injury was really the first substantial injury Howard has had. So naturally, there are questions as to how he'll respond in bouncing back from it.
Training camp starts in just three weeks and Howard's availability is doubtful. Most expected him out until at least November -- potentially December -- rehabbing his back. But with Howard beginning workouts, that's an encouraging sign for the Lakers. Any step forward for Howard is a very good one.